News
See what's happening in your district! Click here for the district newsletter!
LUESD ANNOUNCES PARTNERSHIP WITH PURPOSITY! It's now simple to make a difference for our students, right from your phone! With @Purposity get one weekly notification, read the story of a neighbor...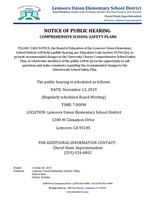 PLEASE TAKE NOTICE, the Board of Education of the Lemoore Union Elementary School District will hold a public hearing, per Education Code Section 35294.2(e), to present recommended changes to the...
See all news