EDIT MAIN
4-Week Practice At Home Series
The start of the 2020-2021 school year will be different. We have the opportunity to make the transition back to school easier by mastering some new skills before we return in August. This is a 4-week challenge to practice some new behaviors at home as a family to set your child up for success and new learning this coming school year.
---
Activity 1- Watch a hand washing video with your child to get the technique down and then practice what you have learned. Here are a couple of videos that we like:
Activity 2- Take water-based, washable craft paint and do the same motion with it that you would do if you were really washing your hands. Then look closely at your hands to see all the areas that you missed, remember to get these areas the next time you wash your hands. Now wash the paint off and see if you missed any spots. This is a good activity to show that there are a lot of areas on our hand that we don't think about when washing and scrubbing. It also simulates the coverage we get when we use hand sanitizer, so remember to get all of those spots when using hand sanitizer too.
Activity 3- Print this coloring page and talk with your child about it.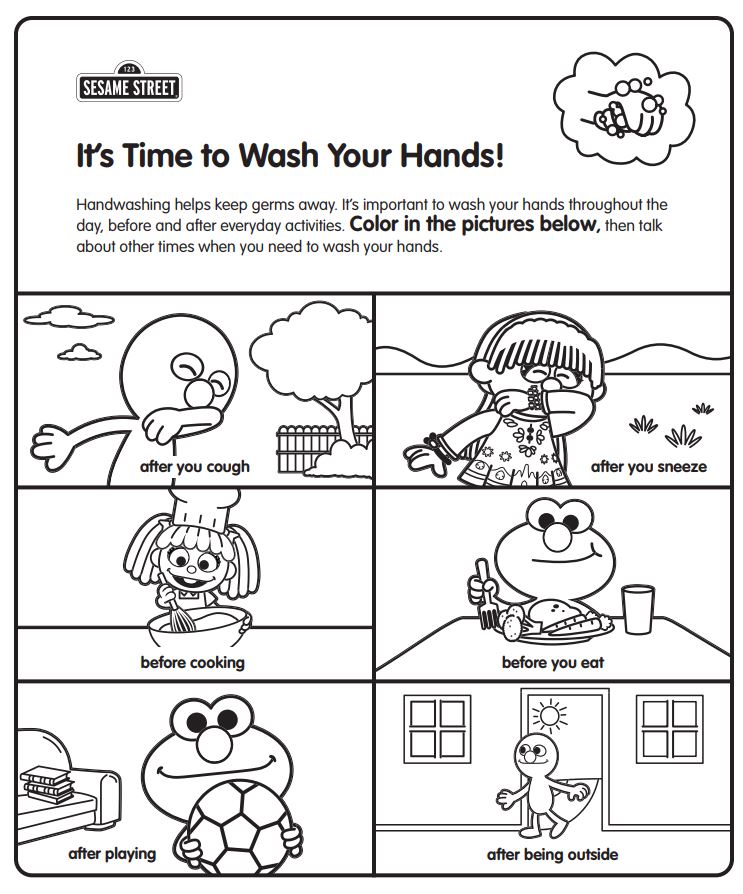 Activity 4- Practice not touching your face. This is a hard one! Most of us touch our face often and are not even aware of it. Start to observe when your child touches their face the most. We will never eliminate all of our face touching habits, but we can try to do it less often. Don't let this activity be frustrating for you and your child. Have fun with it and start to come up with strategies to touch your face less. Here are some more ideas to help your child. Also, try doing your child's hair so it will be kept out of their face and less likely for them to wipe it from their face.
Activity 5- Practice the proper way to cough or sneeze. You can view or print out this social story and make a book of it that you read often before returning to school.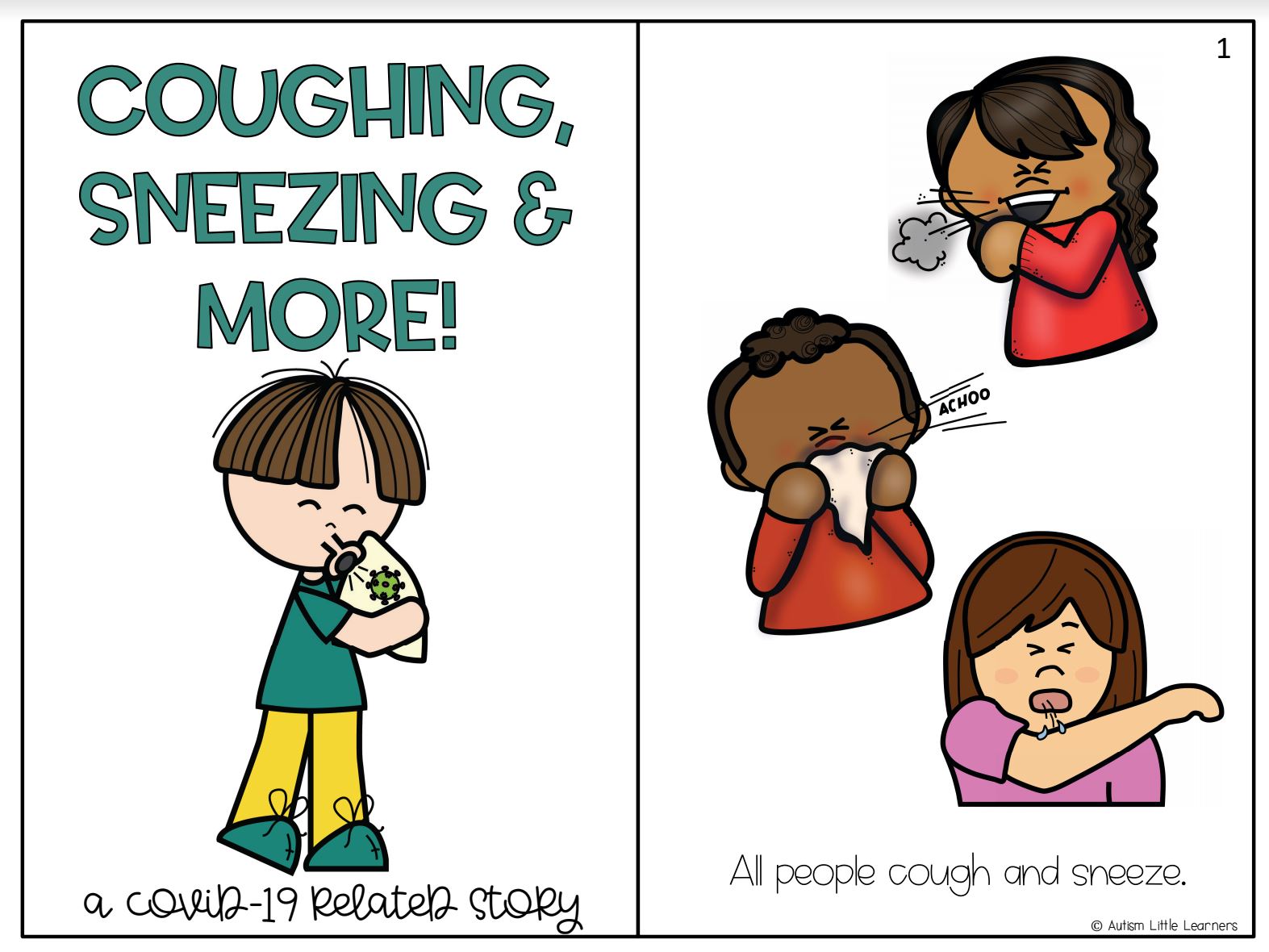 ---
Activity 1- Talk with your child about wearing a face covering. By the age of 4 or 5, children can understand simple explanations as to why we wear face coverings. Use concrete and clear language that is simple and gentle. For example, tell your child that it is a rule for everyone to wear a face mask right now just like we have to wear shoes in a store. We also know that forcing a child to do something new or unknown can start a battle, as control is a vital part of a child's development and understanding. Model mask wearing for them. As you are practicing, gradually increase the length of time that you have your child wear it. Tell your child in advance that they will wear a mask while at school and they will see lots of people wearing a mask when they return to school. Try using this social story to help reinforce your talk.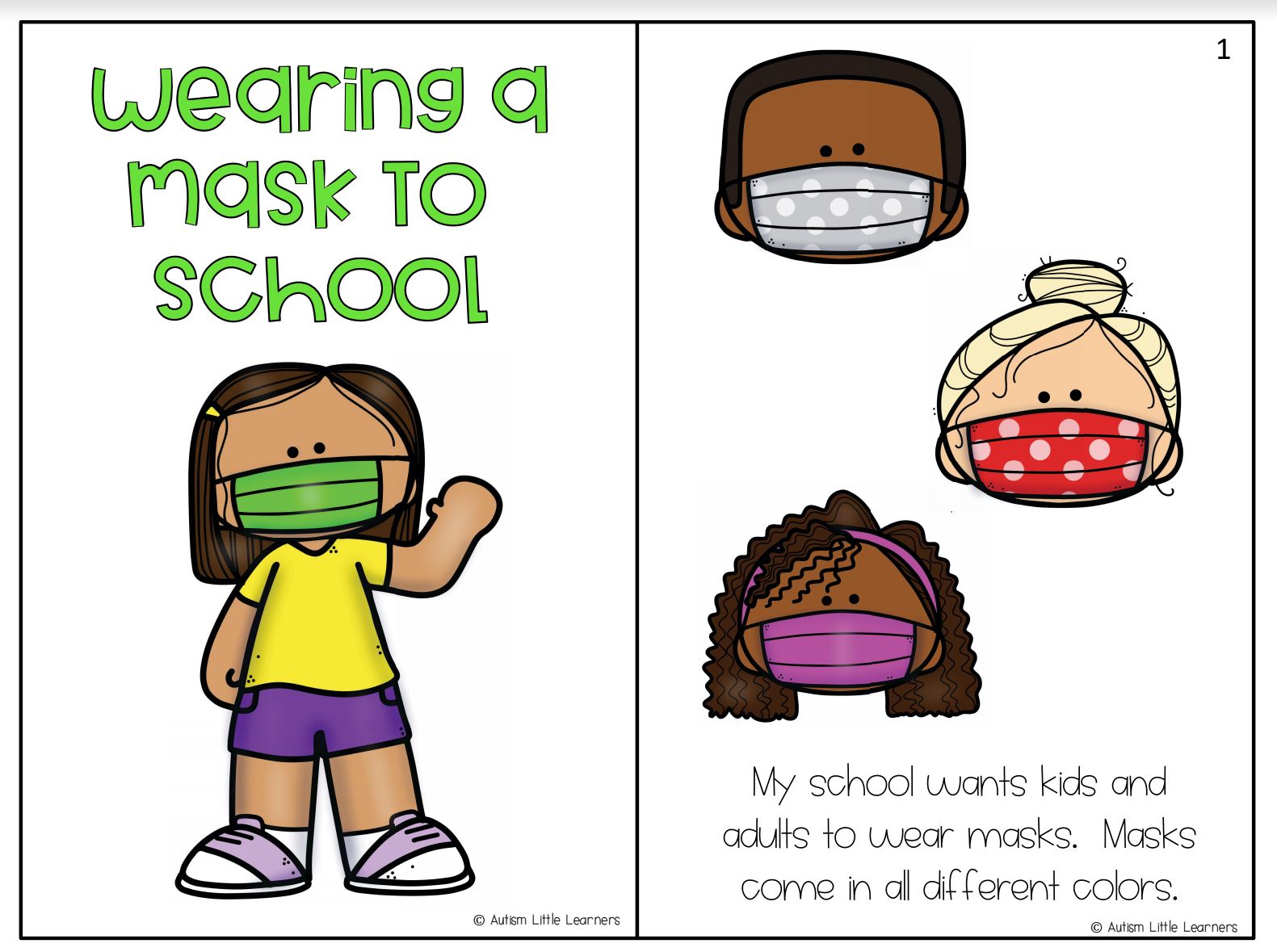 Activity 2- Watch this fun art activity video and draw your own self portrait with reminders of who you are under your mask.
You can also print out these pages and color and add your own words to describe you.
Activity 3- Play is a great way for a child to learn. Help your child make masks out of paper, tape, or string for their figurines, stuffed animals, and dolls. Then, pretend play "school" by having your masked friends line up, sit in a classroom, and other pretend school activities. This will help your child get use to the idea of others wearing masks around them.
Activity 4- Print out this coloring book and have your child color the pages. Seeing people wearing masks will help them get prepared for all the masked faces they will see the first day of school.
Activity 5- Take a selfie! Take a picture of your child wearing their mask and ask your family and friends to text pictures of them wearing a mask too. It will help your child build confidence wearing a mask when they see their friends and family also wearing one.
---
Activity 1- Each morning, before coming to school, there will be a list of symptoms for you to review with your child. If your child has any of the symptoms, they will need to stay home. Please review this letter thoroughly. Keeping symptomatic individuals home will be an important part of slowing the spread of this virus. Start practicing this review of symptoms before the start of school so the first day is familiar.
Activity 2- View or print this social story preparing your child for symptoms checks at school and at home. It is important that you prepare your child before they arrive to school the first day that staff who are wearing masks will be taking their temperature at school.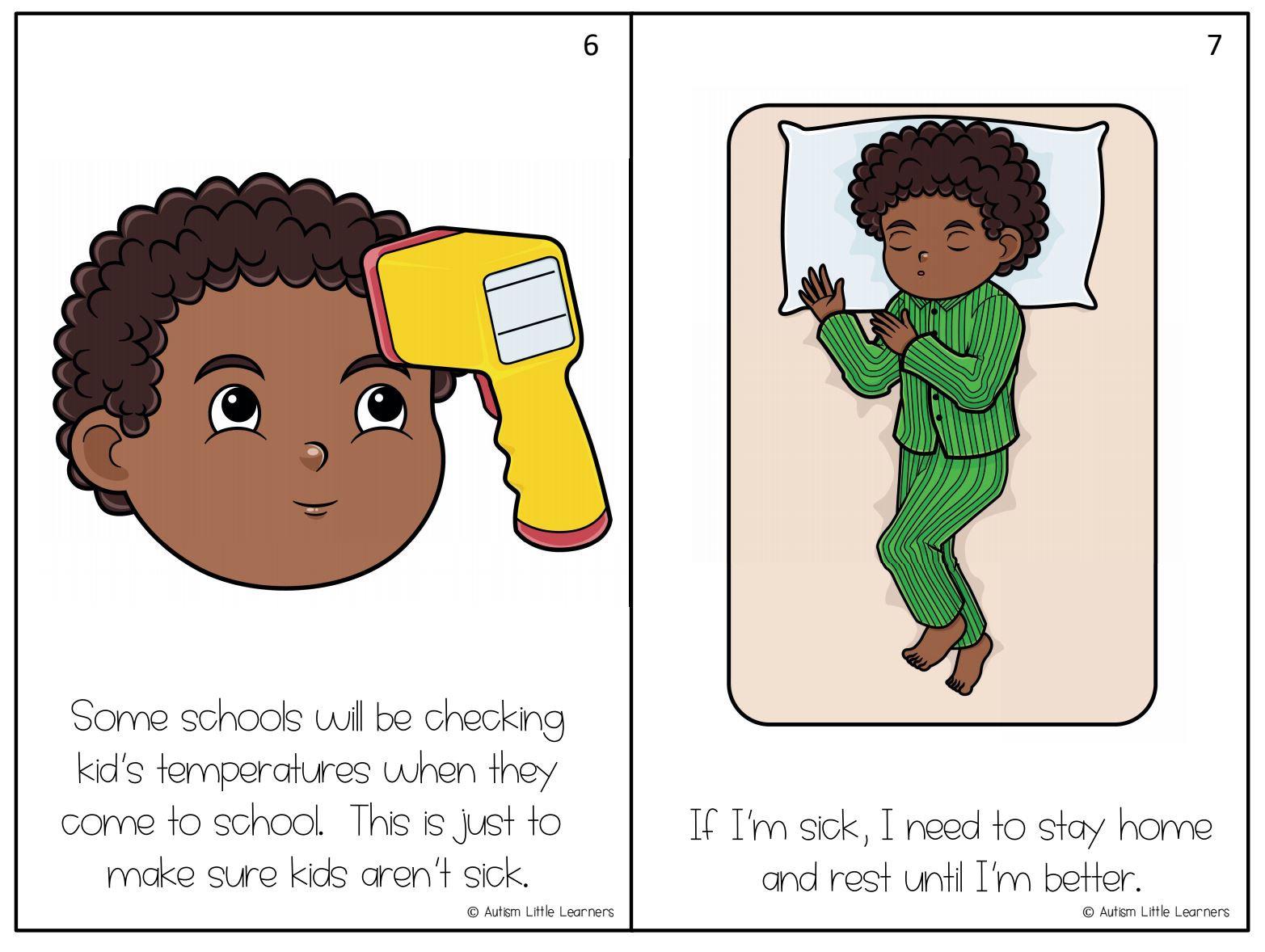 Activity 3- Talk to your child about getting their temperature taken at school. When your child arrives at school each day, someone with a thermometer just like the one in this picture below will point it at your child's forehead and there will be a beep. Sometimes that temperature reading will need to be verified in the health office and your child will be sent to see the nurse. Please talk to your child that just because they are sent to the office after their temperature check does not mean they are in trouble or have done anything wrong. Lots of people go to the health office for many different reasons.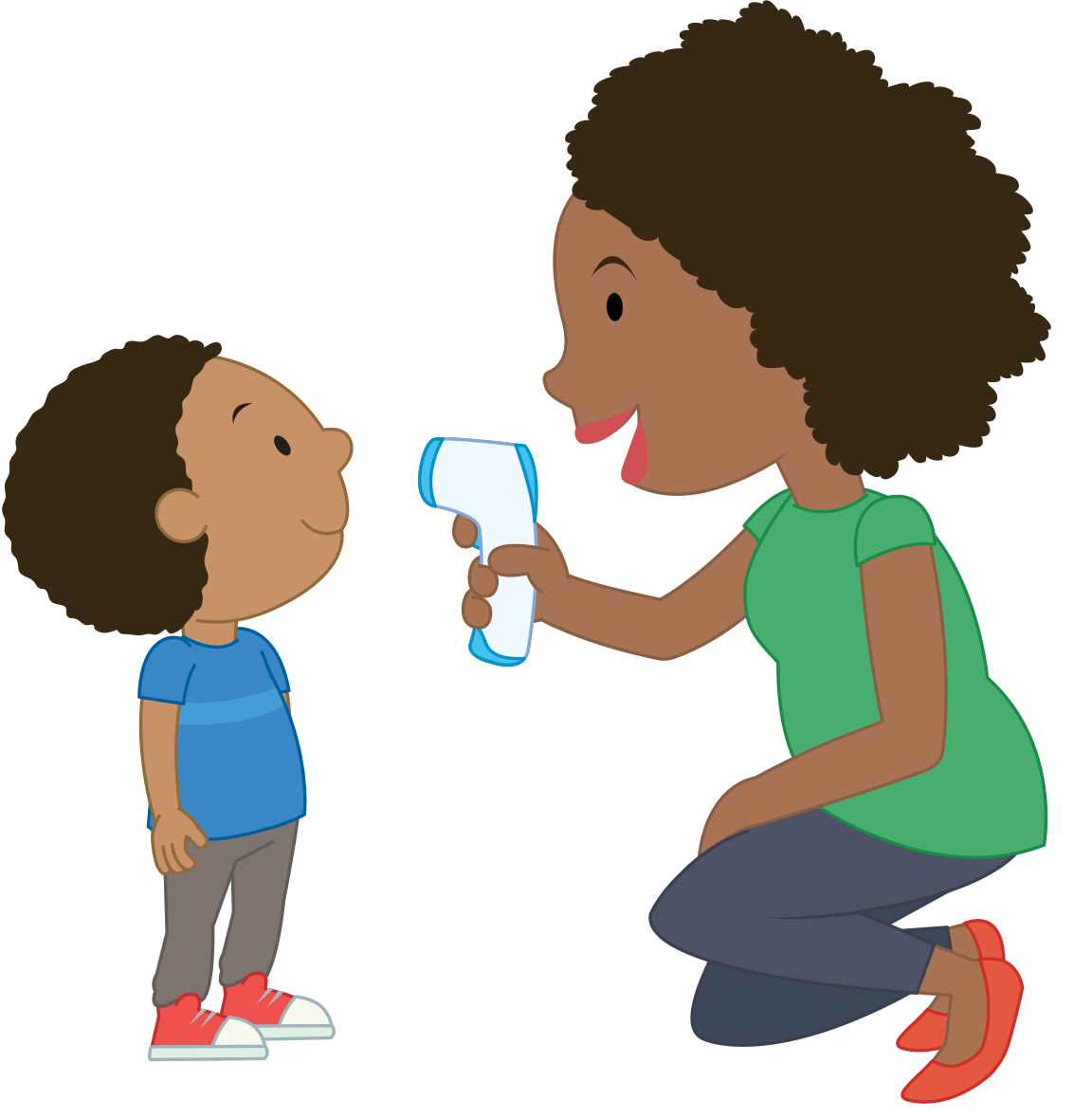 ---
Activity 1- Your child might be unsure how to be a friend when they can't hold hands or hug. View or print this social story to help them see the fun and creative ways to say hi to their friends while social distancing.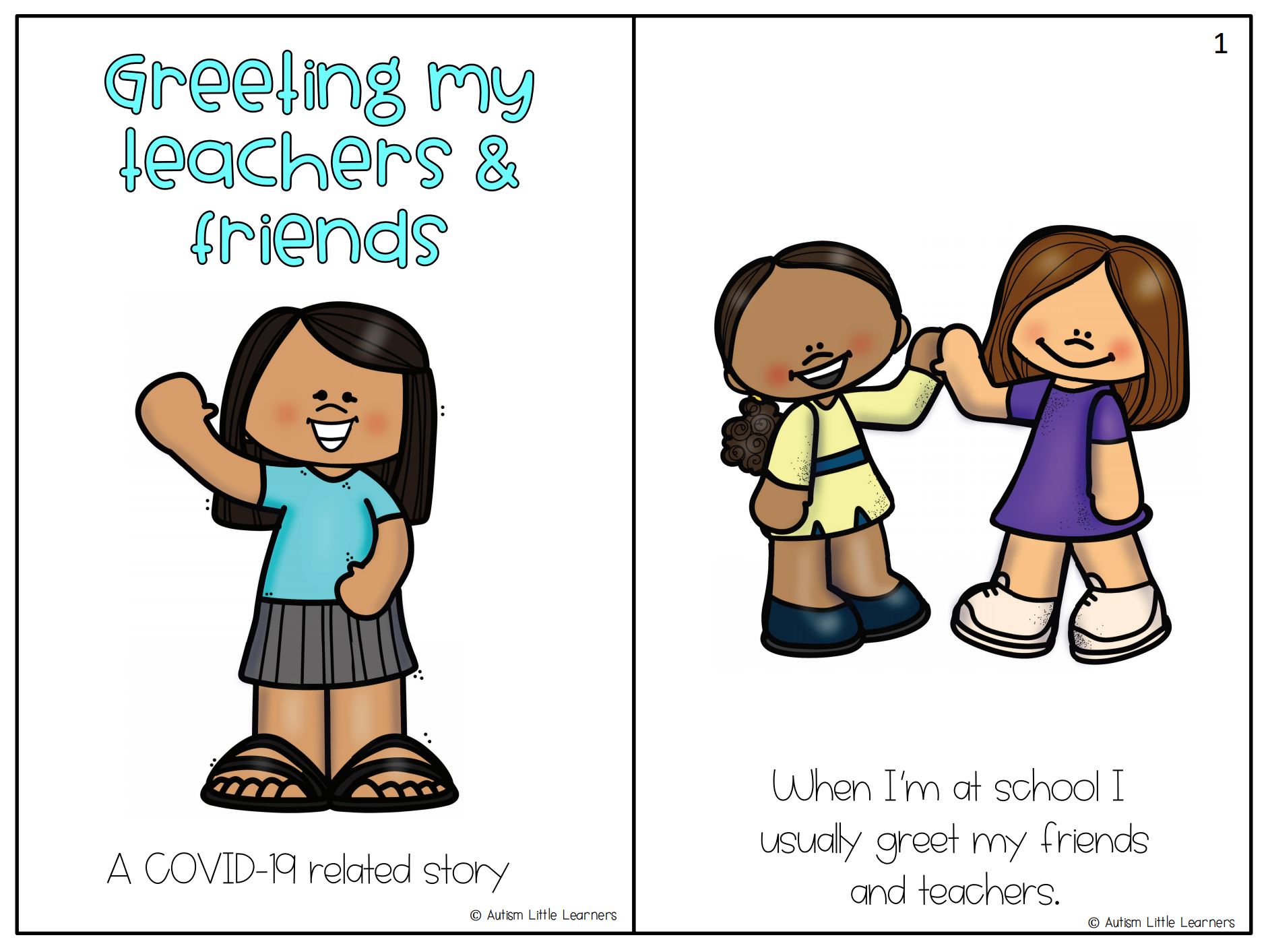 Activity 2- Talk to your child about coronavirus and what they think about returning to school. Children look to their safe people for guidance on how to react to stressful situations. This is an excellent article to help you when you talk to your child.
Activity 3- Grounding is a good tool for anyone to use when feeling anxious, distracted, or fearful. Practice these grounding exercises at home with your family. It might feel silly at first, but it will be a great tool in your mental health toolkit.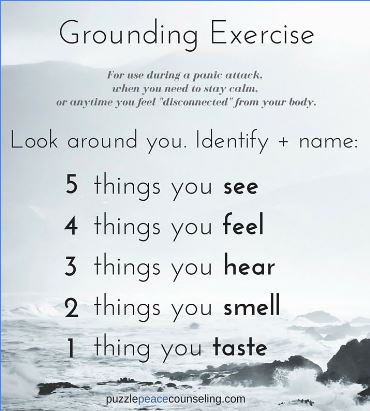 Activity 4- Parents, are you noticing a change in mood or behavior with your teen? In this video created by the Mayo Clinic, teens describe common signs that a teen is considering suicide and provide encouragement for communicating directly and immediately for support and safety. It also includes suggestions for what to say to a teen who may be at risk for suicide and ways to keep them safe.
Anyone living in Kings County having a mental health crisis can get help 24 hours a day by calling the below crisis line.
Call (559) 582- 4481 or 1-800-655-2553: This toll-free crisis line is provided by Kings View Counseling Services and is capable of responding in many languages.
CALL 911 for police assistance if the situation is life threatening or if it looks like someone may get hurt.
You can also go to the nearest Hospital Emergency Room
Kings County 24/7 Non- Crisis, Peer to Peer, Confidential Warm Line1(877) 306-2413
California Non- Crisis, Peer to Peer, Confidential Warm Line1(855) 845-7415
Peer-to-peer support is a proven way of helping people stay healthy and get the help they need. Reach out to the California Peer-Run Warm Line for non-crisis support.
Accesible:7 a.m.-11 p.m. Monday through Friday, 7 a.m.-3 p.m. Saturday and 7 a.m.-9 p.m. Sunday -- by the end of the year the call center is expected to be open 24/7.