News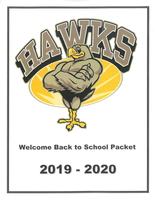 Welcome Back to School packets were mailed out the week of July 29th. This packet includes general information for the start of the school year. A copy is available by following the link below. We...
UCS is accepting applications for students in grade 6th thru 8th for the Fall 2019 school year. Grades 7th and 8th are currently full and completed applicants will be placed on a wait list. Select...
What is happening in the district?? See the full newsletter here!
See all news
Live Feed

Welcome UCS Hawks! The first day of the 2019-20 school year is Tuesday, August 13th and it will be a regular day. Wednesday, A ...
15 days ago
UCS Hawks

* Important Parent Information * We would like to remind all parents to update their child's information through the Data Confirma ...
15 days ago
UCS Hawks

The UCS office will open Monday, August 5th **Please note that the office will close Friday, August 9th from 7:30 a.m. - 11:30 a.m ...
15 days ago
UCS Hawks

8th Grade t-shirt order forms DUE Friday, May 17th. View Image
3 months ago
UCS Hawks
See all posts