News
Catch up on the latest news from LUESD! Click here for the entire newsletter
See what's happening in your district! Click here for the district newsletter!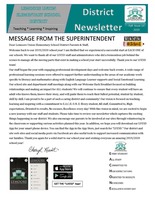 What is happening in the district? See the full newsletter by clicking here!
See all news
Live Feed
First day of school. Welcome back to school. We are excited for you to be back. School starts promptly at 8:00am on August 13, 20 ...
7 months ago
Brooke Warkentin
See all posts