Parents please read the information below. Applications are available through parent square.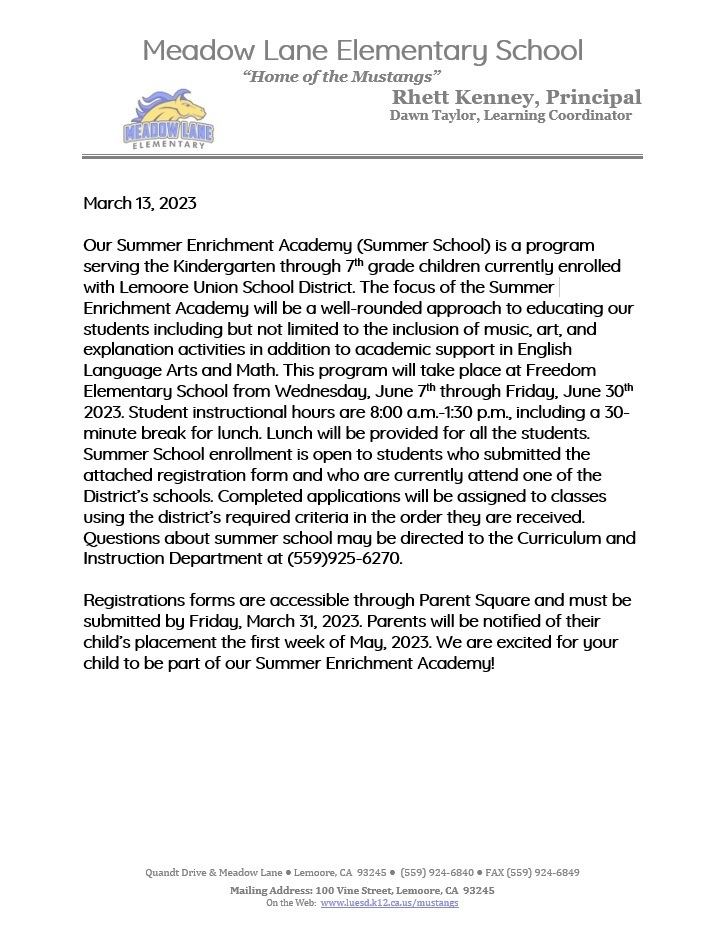 Lemoore Union Elementary School District is currently taking new student applications for the 2023/2024 school year! This includes registration for children who will be starting transitional kindergarten or kindergarten for the first time and are not currently enrolled in our district. To access the Enrollment webpage, please start by visiting our website at
https://www.luesd.k12.ca.us
and select "New Student Enrollment" on the homepage. Student registration information may be submitted through the Aeries Online Enrollment website on your computer, tablet or your mobile device. Parents are highly encouraged to register their child(ren) for kindergarten and/or transitional kindergarten by May 1st to ensure important information and opportunities are not missed. Each elementary school site will host a kindergarten parent orientation for registered students and parents/guardians. As a reminder, TK students who are already attending schools within LUESD will NOT need to complete this online registration for the 2023/2024 school year.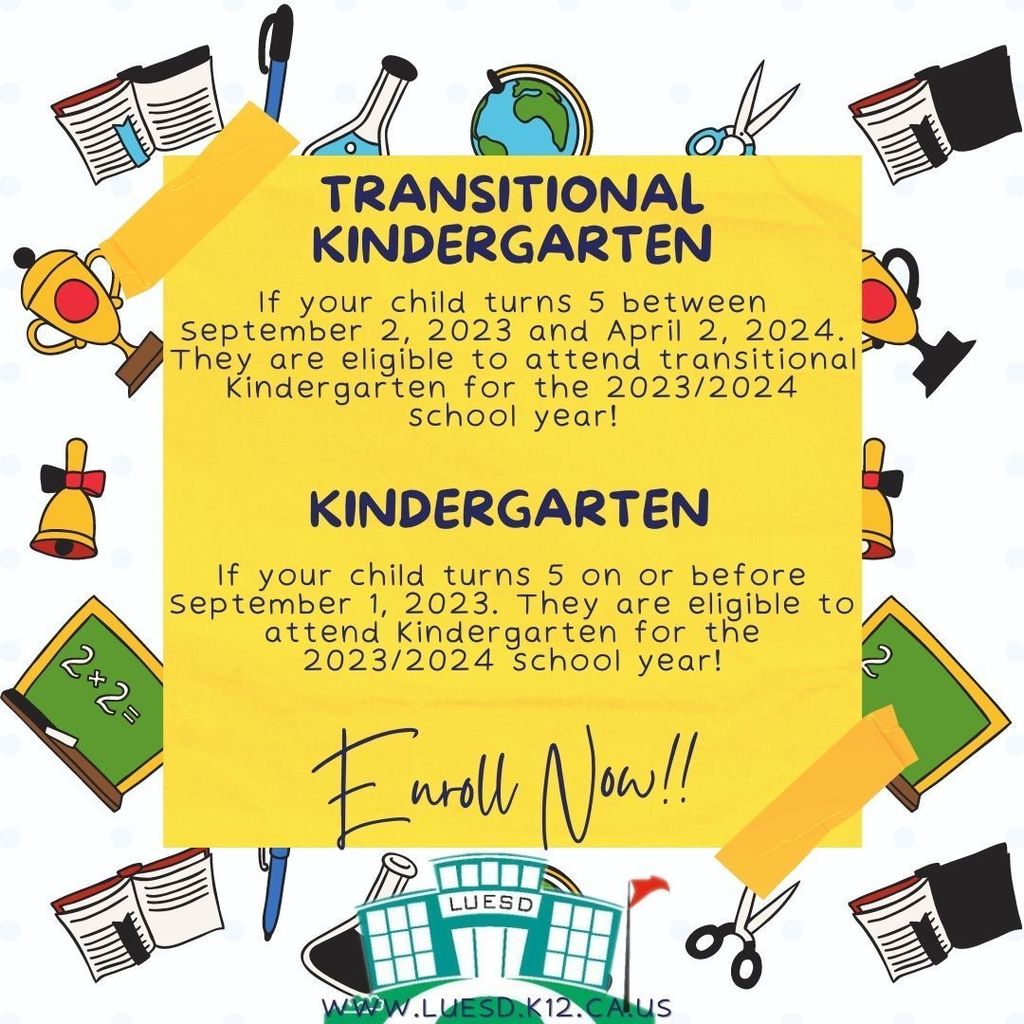 Wednesday , Feb.1st - Foggy Day Schedule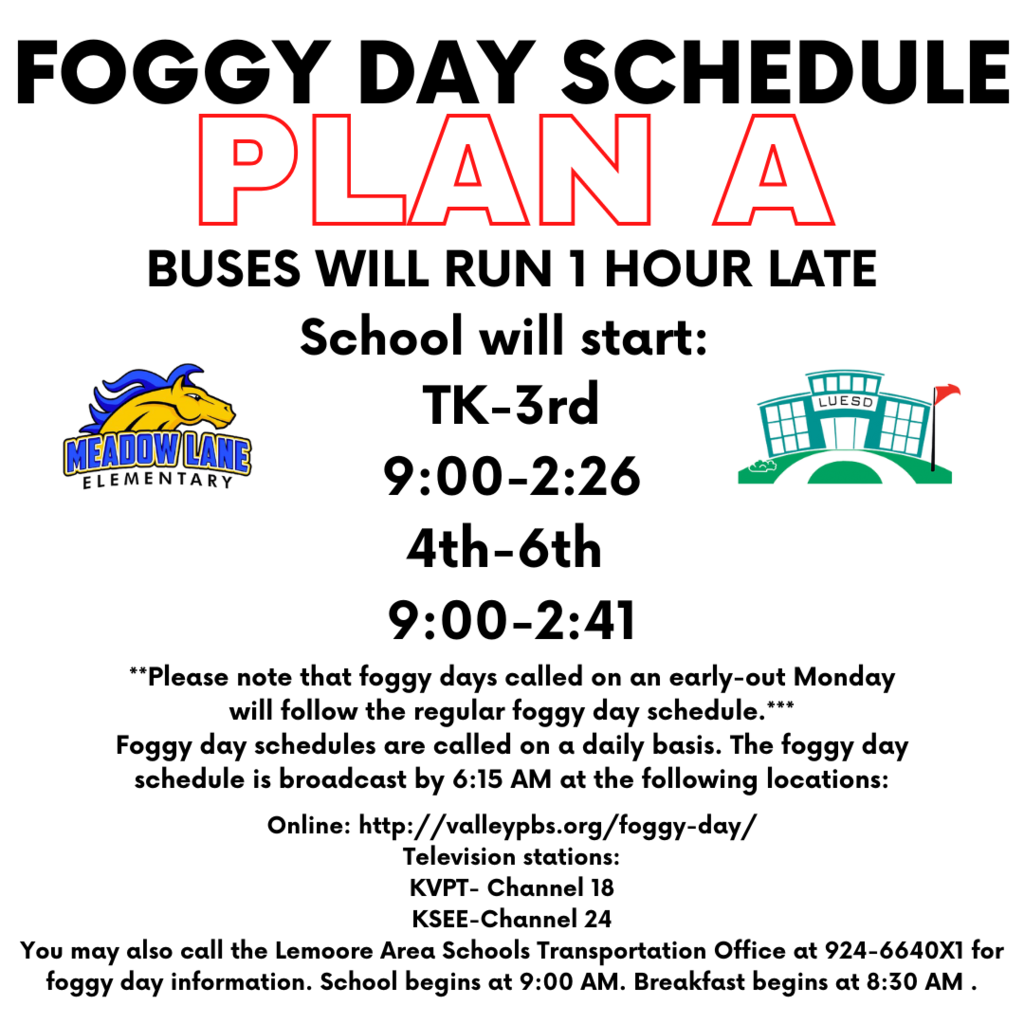 Thursday, Jan. 26th-Foggy Day Schedule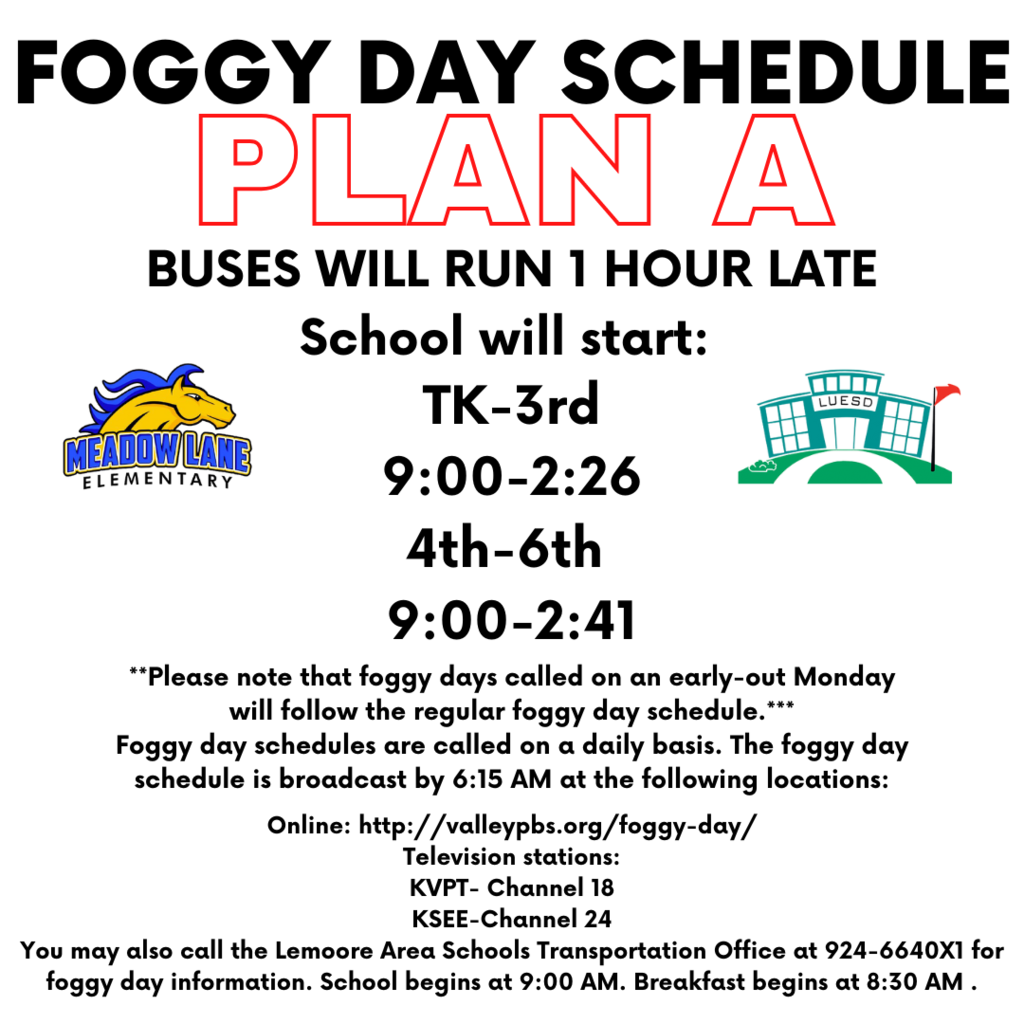 Foggy Day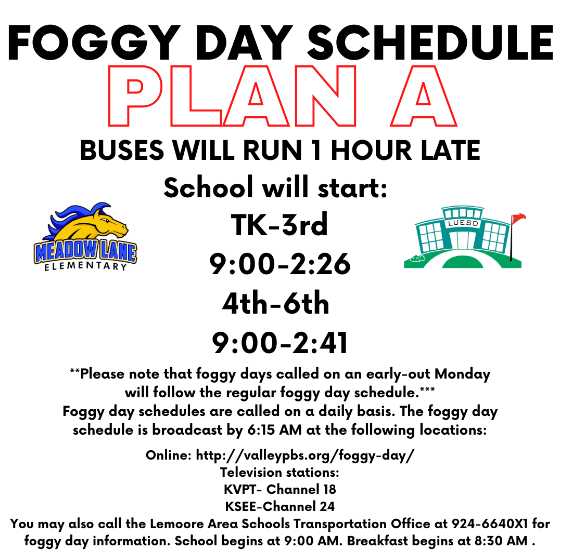 Early Out Foggy Day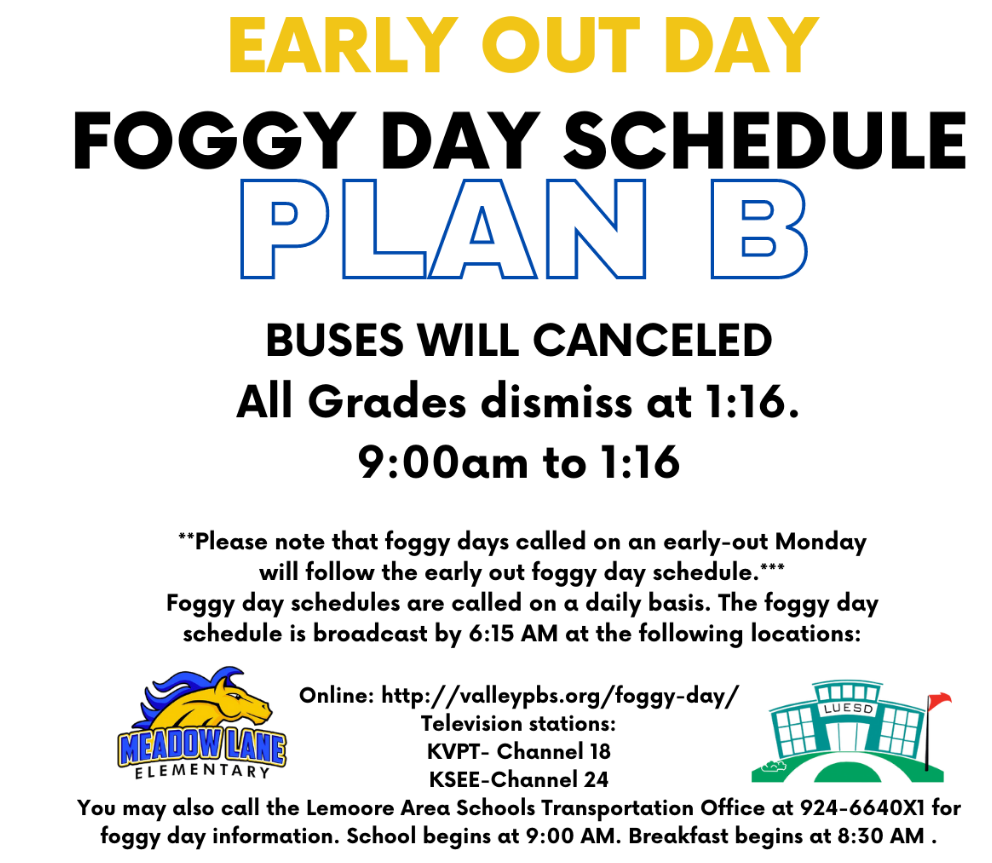 Hello Meadow Lane parents, Correction on the previous post. Students will be practicing the Earthquake Drill today, Friday, Oct. 7th.
Hello Meadow Lane parents, please read the message .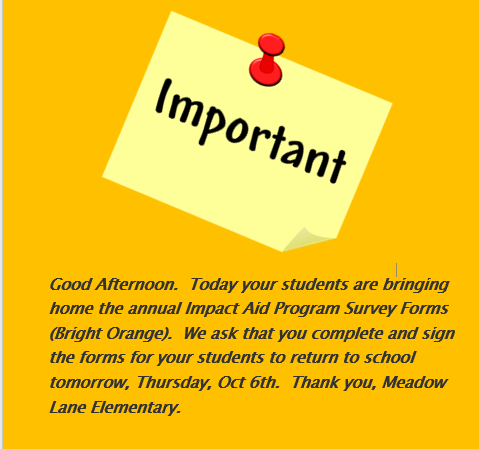 Join us in recognizing Constitution and Citizenship Day! On September 17, 1787, the United States Constitution was signed in Philadelphia and has served as our country's foundation of law and democracy for the past 235 years. This commemoration started in 1940, when Congress passed a resolution authorizing and requesting the President to issue an annual proclamation setting aside the third Sunday in May for the public recognition of all who had attained the status of American citizenship. In 1952 Congress repealed this joint resolution and passed a new law moving the date to September 17 to commemorate the signing of the Constitution.
Breakfast and lunch menu for September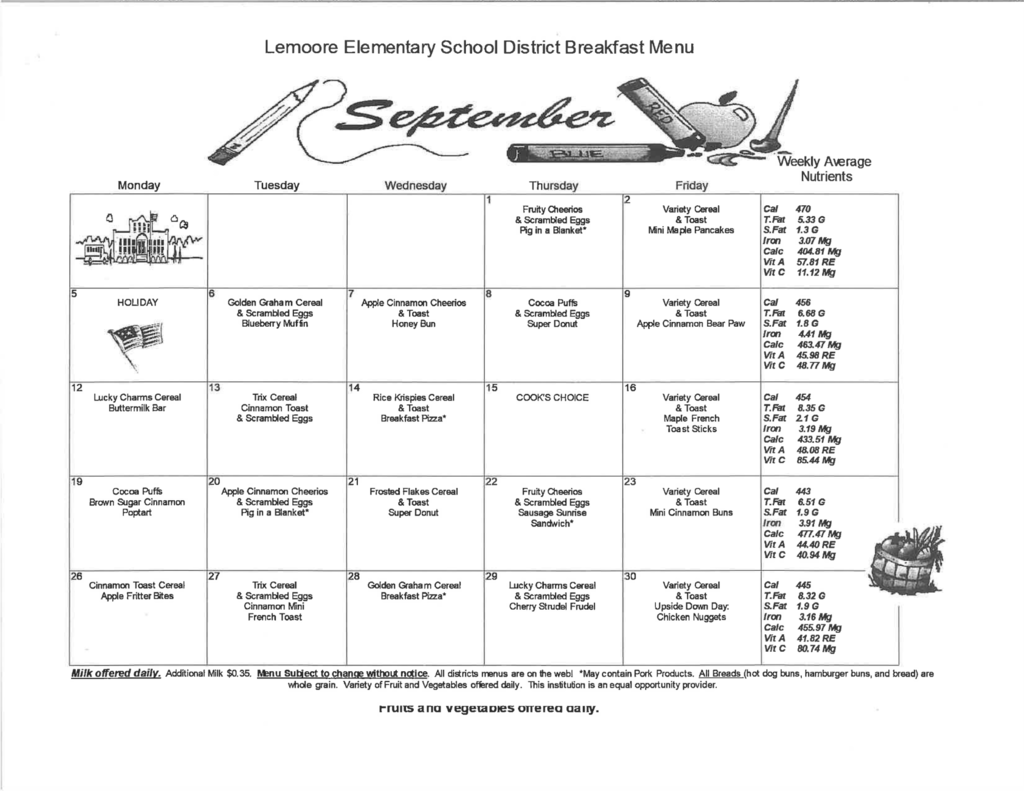 What a wonderful first week of school! We were all so excited to see all of our Mustangs back at school! This is going to be an amazing year of learning! EACH ONE!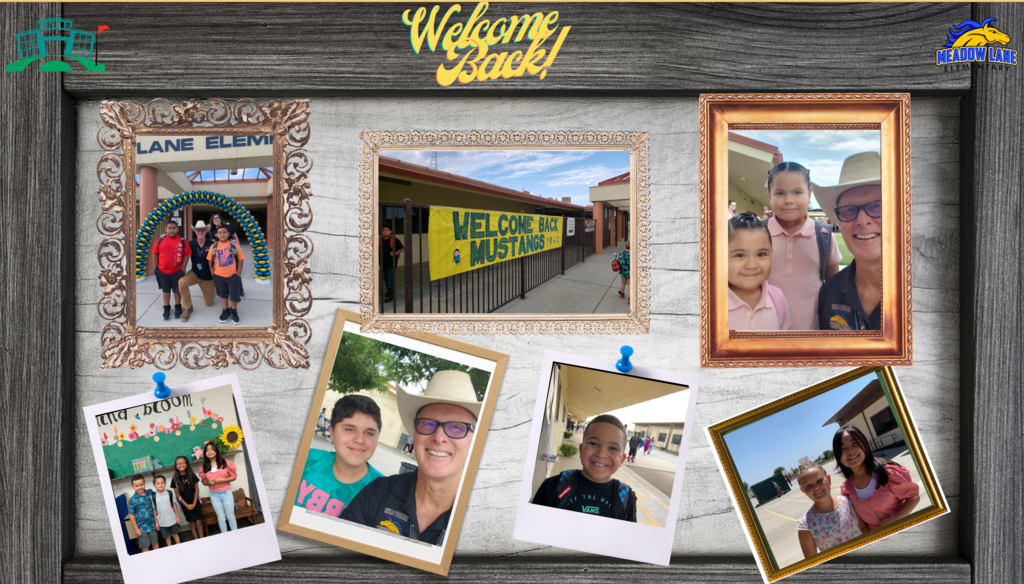 Back to School Night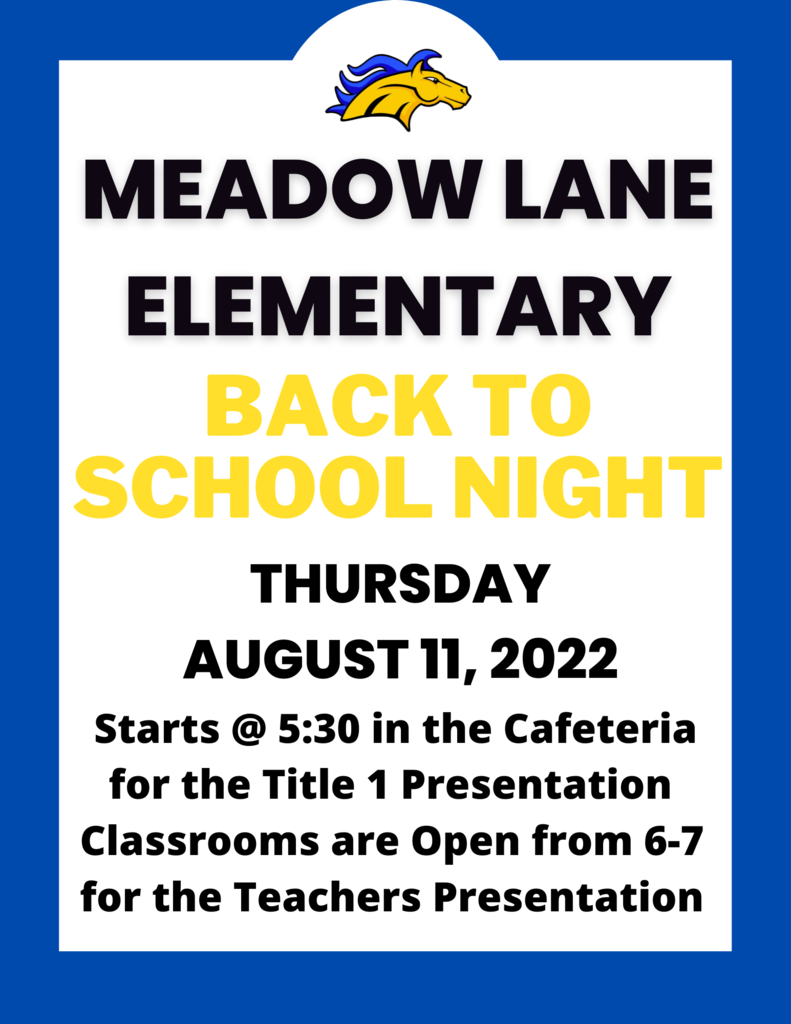 Back to School Night!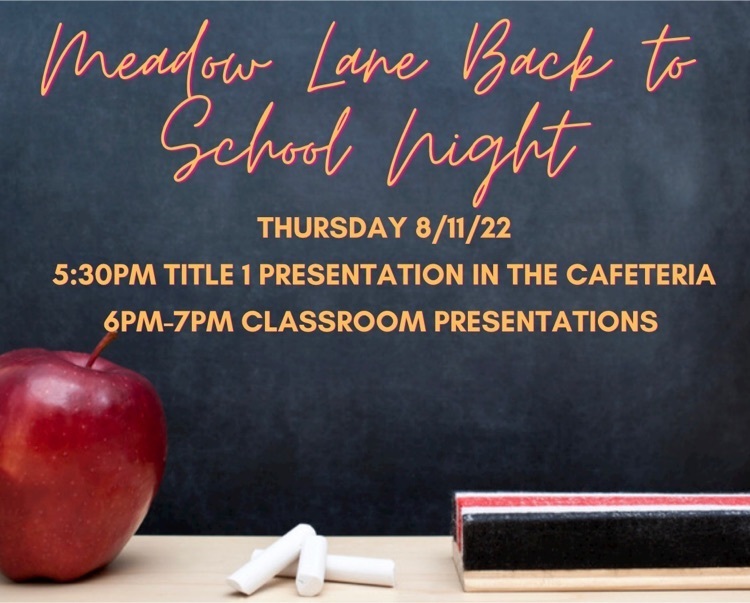 We are so excited to see our former Mustangs and meet our new Mustangs.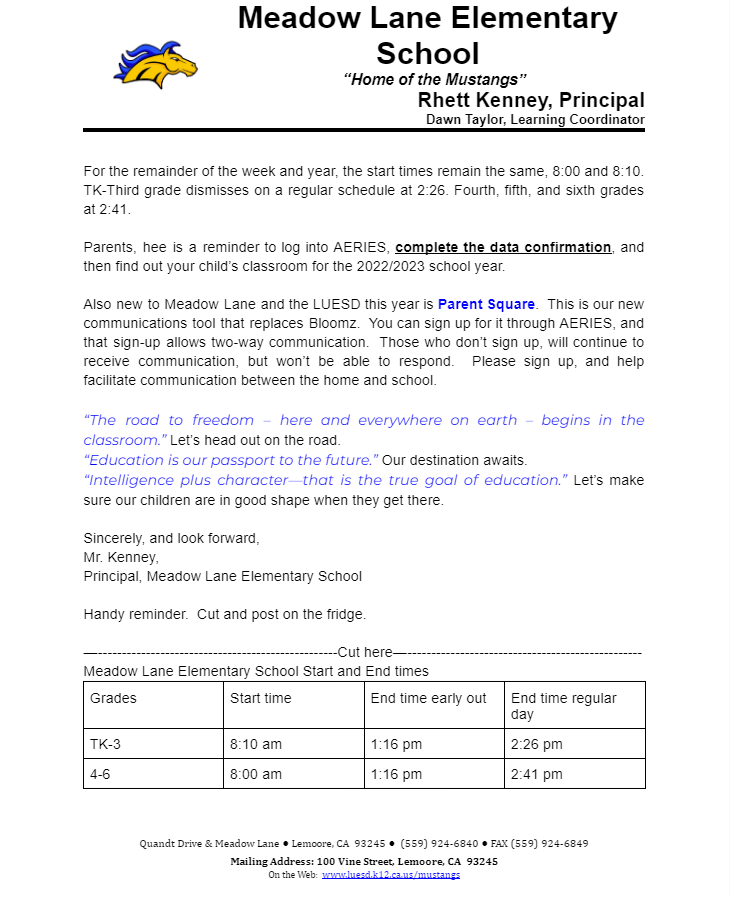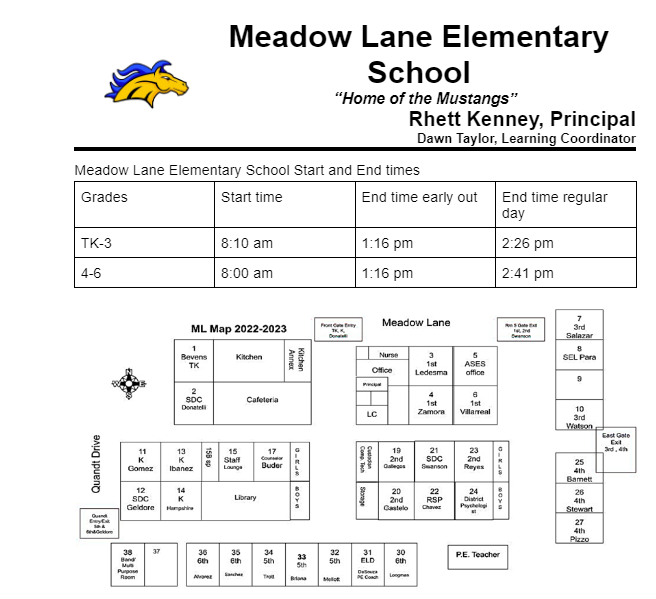 Lemoore Union Elementary School District Recognized as a 2022 California Pivotal Practice (CAPP) Award Program Recipient The California Department of Education and the California Pivotal Award Program selected LUESD as a 2022 CAPP Award Program Winner LUESD was recently recognized as a 2022 California Pivotal Practice (CAPP) Award Program Winner. The CAPP Award Program, which is part of the California Department of Education's School Recognition Program, was designed in partnership with Presenting Sponsor, California Casualty to celebrate districts and schools that have implemented innovative practices during the 2020-2021 school year to support distance learning during the COVID-19 pandemic. The CAPP Award Program is currently being utilized in place of the California Distinguished Schools (DS) Program. Congratulations to the LUESD students and staff on this well-deserved recognition!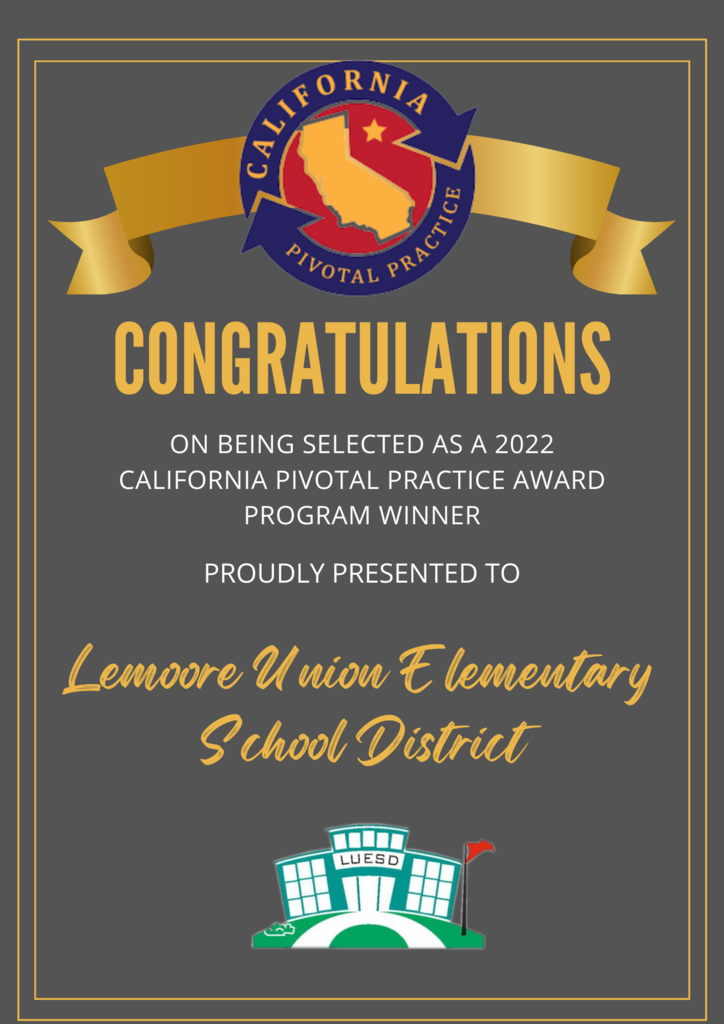 The Expanded Learning Opportunities Program (ELOP) is a new state program that is designed to provide students in TK-6th grades with additional time and support in addition to the regular school day. The district may be able to expand the program to serve students in grades 7 and 8 if funds are available. The intent of the program is to meet the needs of the community in terms of days and times of operation as well as the content of the program. This survey will be critical in assisting us in the process of developing Lemoore Union Elementary School District's ELOP. - El Programa de Oportunidades de Aprendizaje Ampliadas (ELOP, por sus siglas en inglés) es un nuevo programa estatal que está diseñado para proporcionar a los estudiantes de TK a 6° grado tiempo adicional y apoyo además del día escolar regular. El distrito puede expandir el programa para servir a los estudiantes en los grados 7 y 8 si hay fondos disponibles. La intención del programa es satisfacer las necesidades de la comunidad en términos de días y horarios de operación, así como el contenido del programa. Esta encuesta será fundamental para ayudarnos en el proceso de desarrollar el ELOP del Distrito Escolar Primario de Lemoore.
https://docs.google.com/forms/d/e/1FAIpQLSdE-IY9IZeX7xwl52i2DvUG0C05K4j6XjQC6fiZ38-lWIoErA/viewform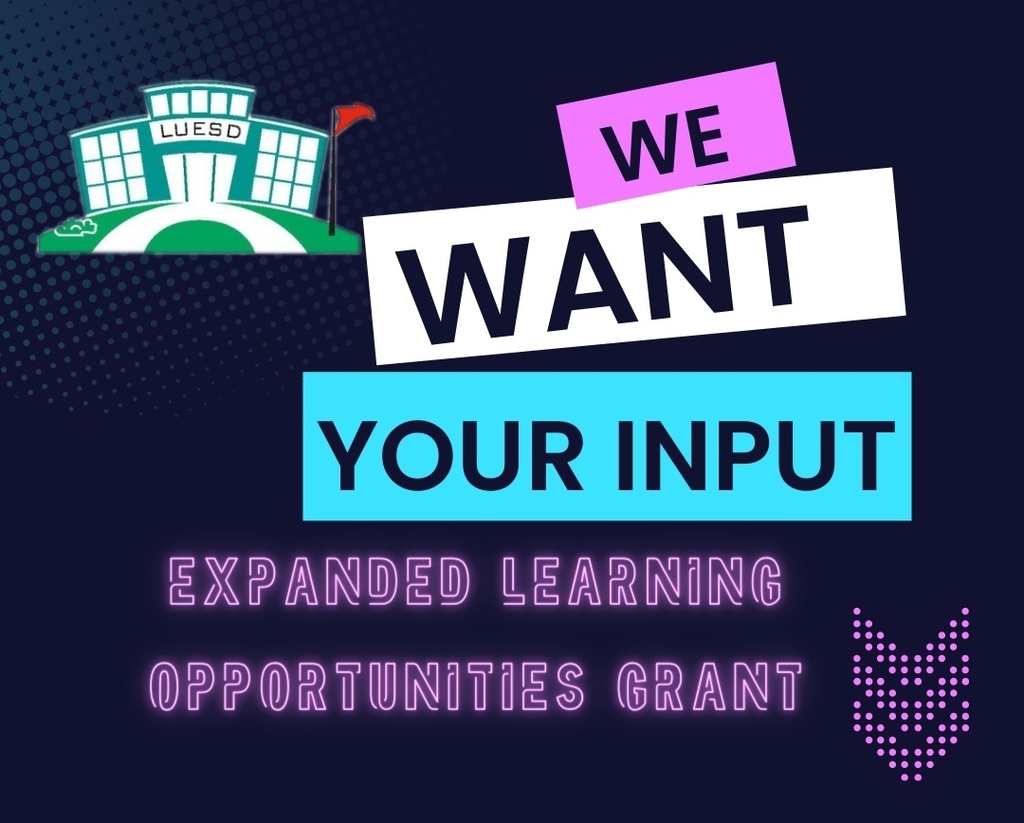 Monday, May 30th is Memorial Day . We will not be in session.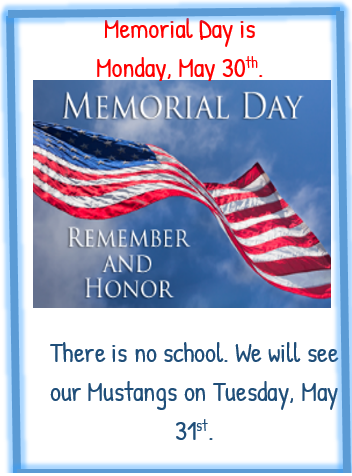 Hello Mustang Nation our Lemoore UESD Afterschool Program registration opens May 23rd to May 27th from 3:30 pm to 6:00 pm. Please pick up registration packets in Room 5 and not the cafeteria. Thank you.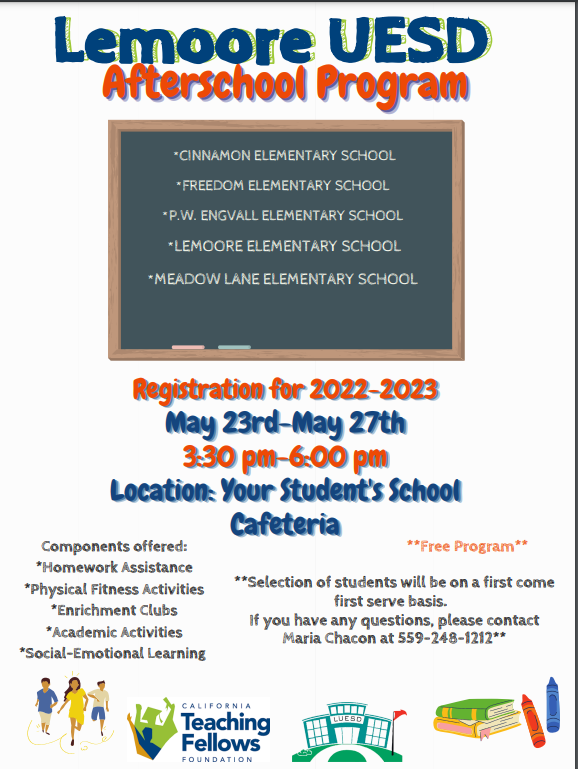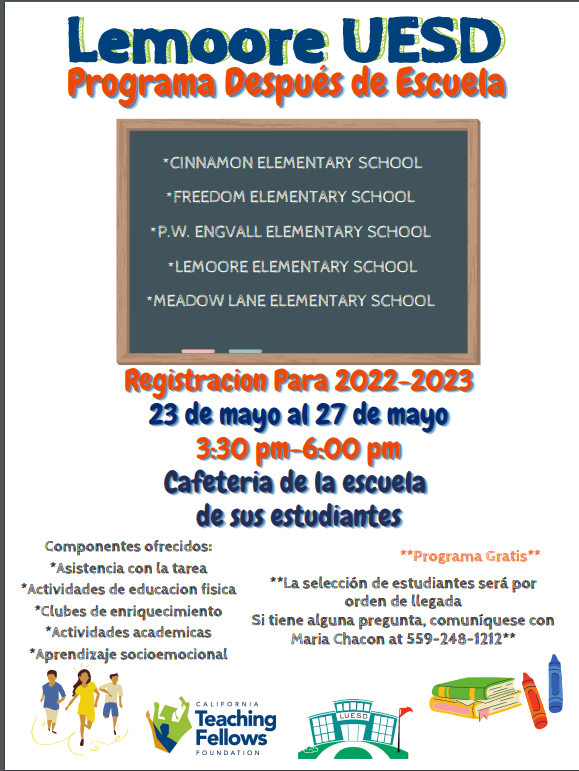 Mustang Nation please read the following information below.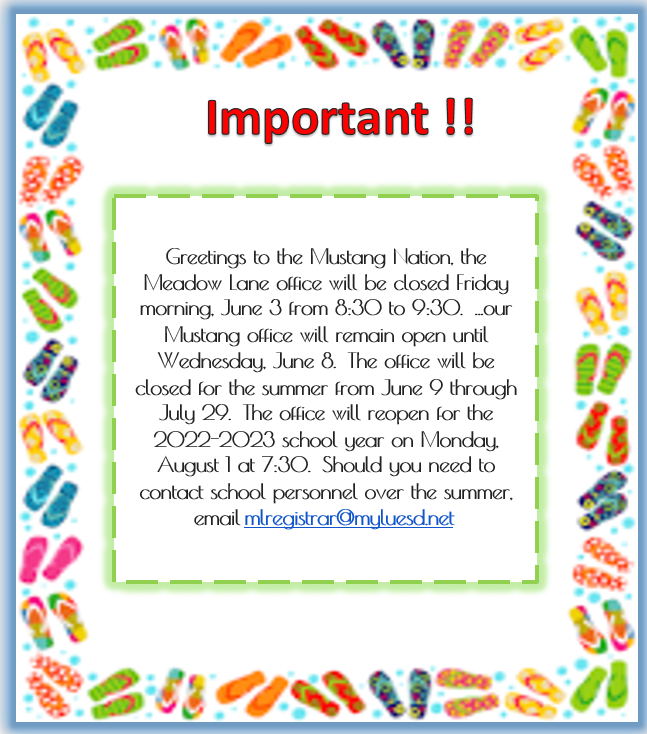 Mustangs here is Breakfast and Lunch for May-June.