The Expanded Learning Opportunities Program (ELOP) is a new state program that is designed to provide students in TK-6th grades with additional time and support in addition to the regular school day. The district may be able to expand the program to serve students in grades 7 and 8 if funds are available. The intent of the program is to meet the needs of the community in terms of days and times of operation as well as the content of the program. This survey will be critical in assisting us in the process of developing Lemoore Union Elementary School District's ELOP. - El Programa de Oportunidades de Aprendizaje Ampliadas (ELOP, por sus siglas en inglés) es un nuevo programa estatal que está diseñado para proporcionar a los estudiantes de TK a 6° grado tiempo adicional y apoyo además del día escolar regular. El distrito puede expandir el programa para servir a los estudiantes en los grados 7 y 8 si hay fondos disponibles. La intención del programa es satisfacer las necesidades de la comunidad en términos de días y horarios de operación, así como el contenido del programa. Esta encuesta será fundamental para ayudarnos en el proceso de desarrollar el ELOP del Distrito Escolar Primario de Lemoore.
https://docs.google.com/forms/d/e/1FAIpQLSdE-IY9IZeX7xwl52i2DvUG0C05K4j6XjQC6fiZ38-lWIoErA/viewform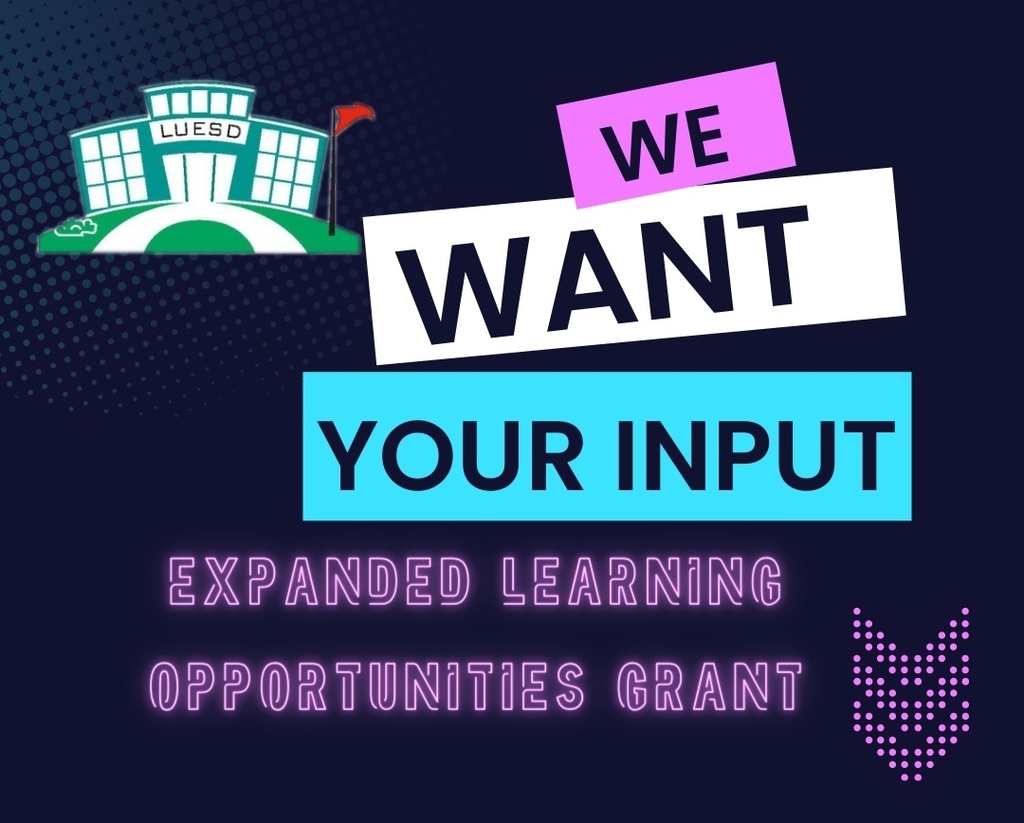 Monday, May 30th is Memorial Day . We will not be in session.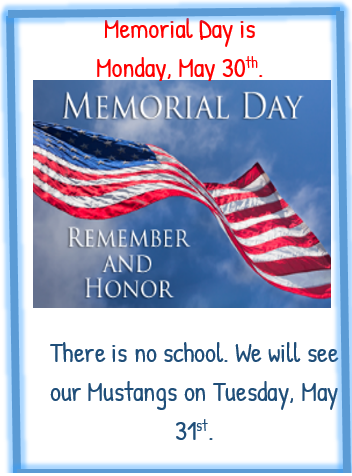 Hello Mustang Nation our Lemoore UESD Afterschool Program registration opens May 23rd to May 27th from 3:30 pm to 6:00 pm. Please pick up registration packets in Room 5 and not the cafeteria. Thank you.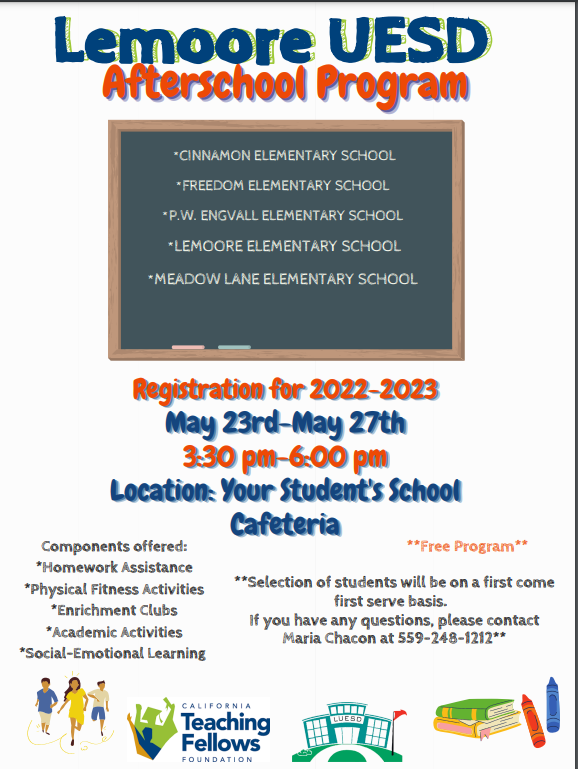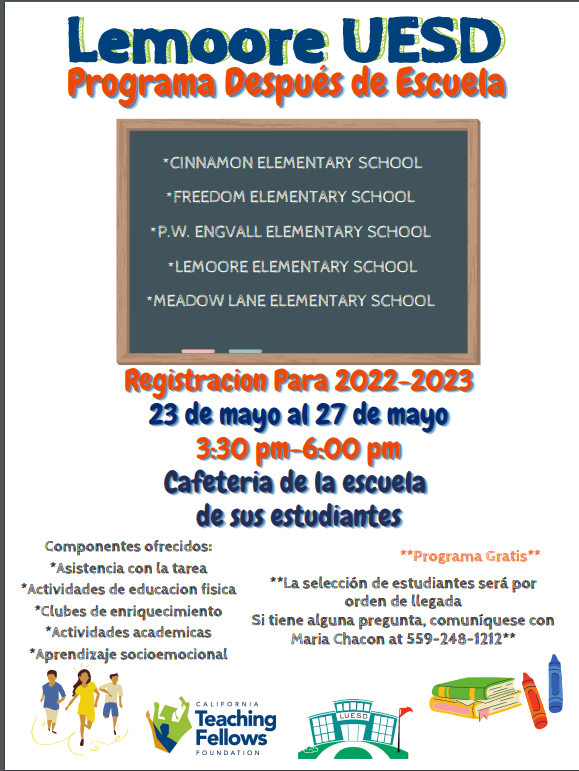 Mustang Nation please read the following information below.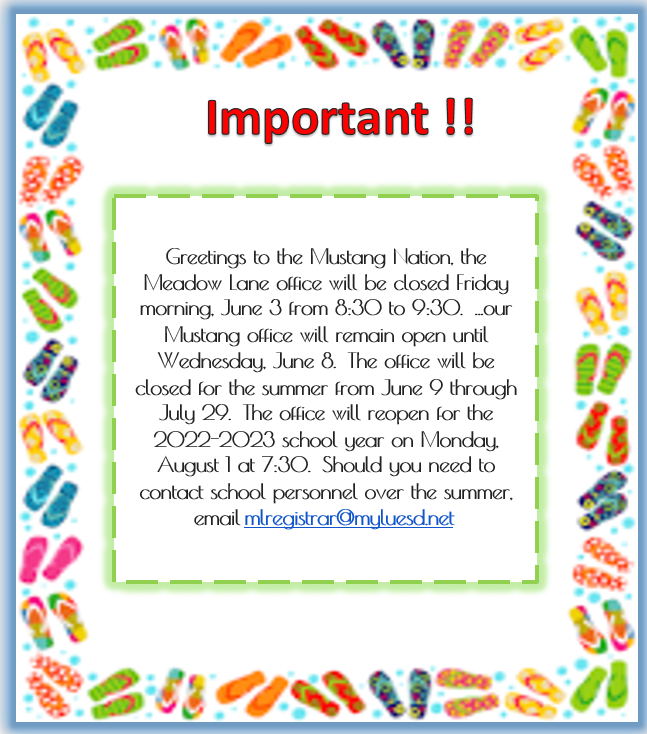 Mustangs here is Breakfast and Lunch for May-June.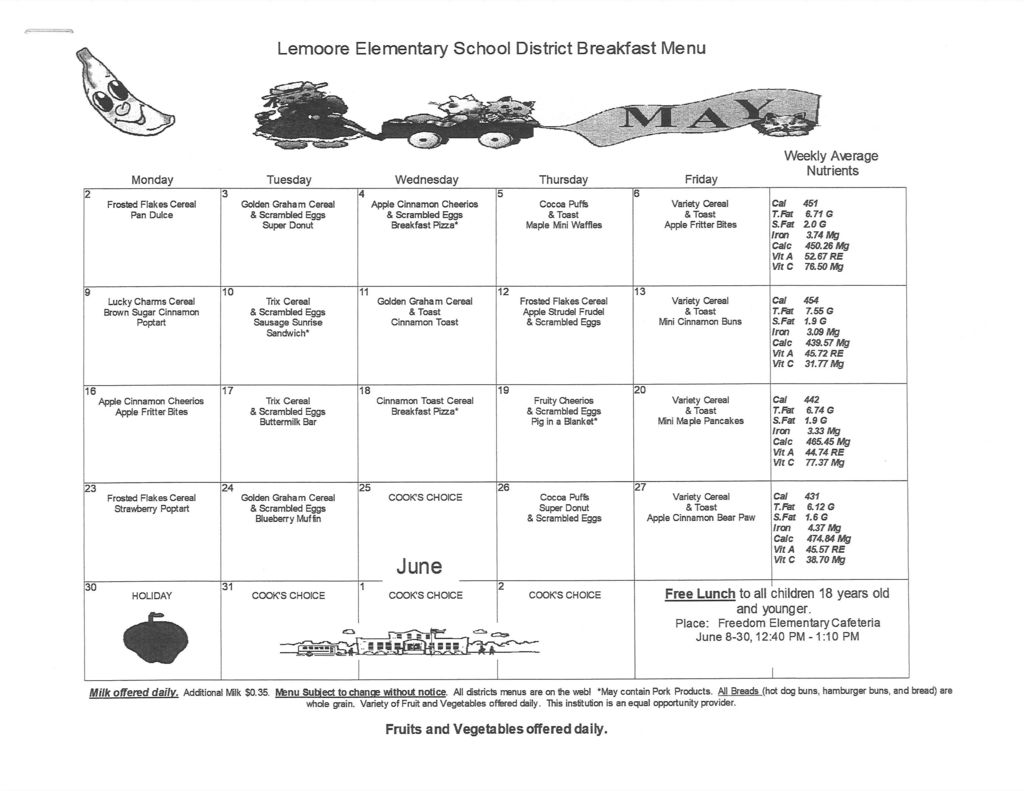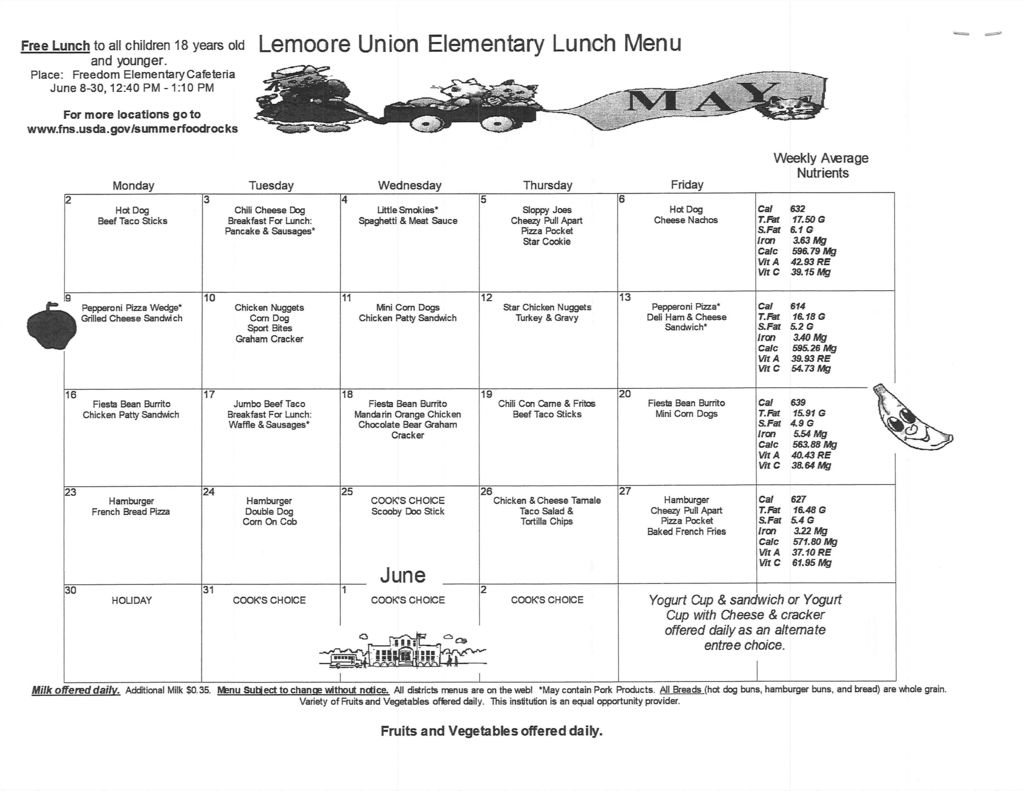 Spring Break Information.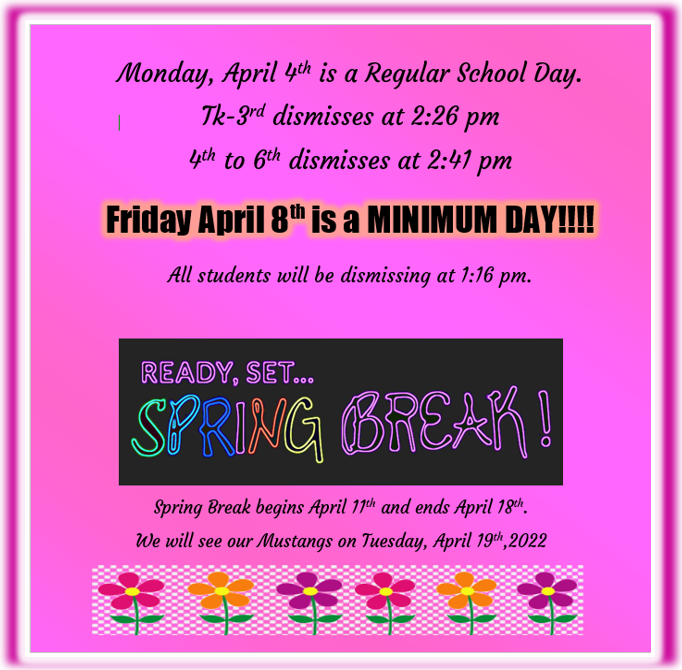 Flag Football and Volleyball Schedule. Attached is the scheduled.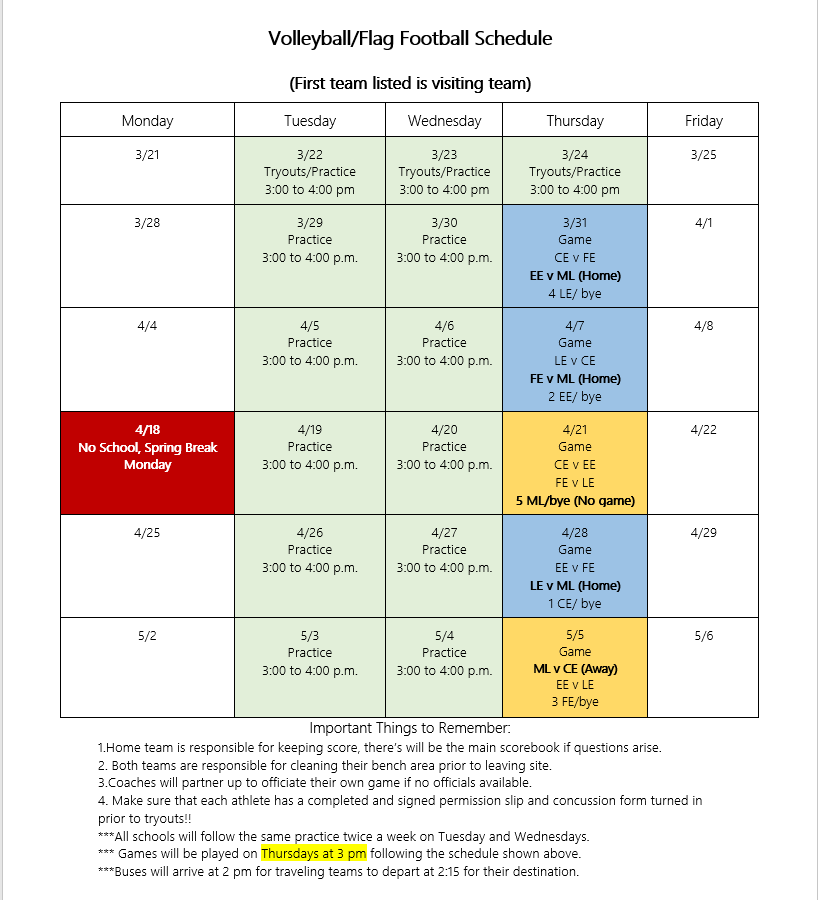 Hello Mustangs here is the menu for April .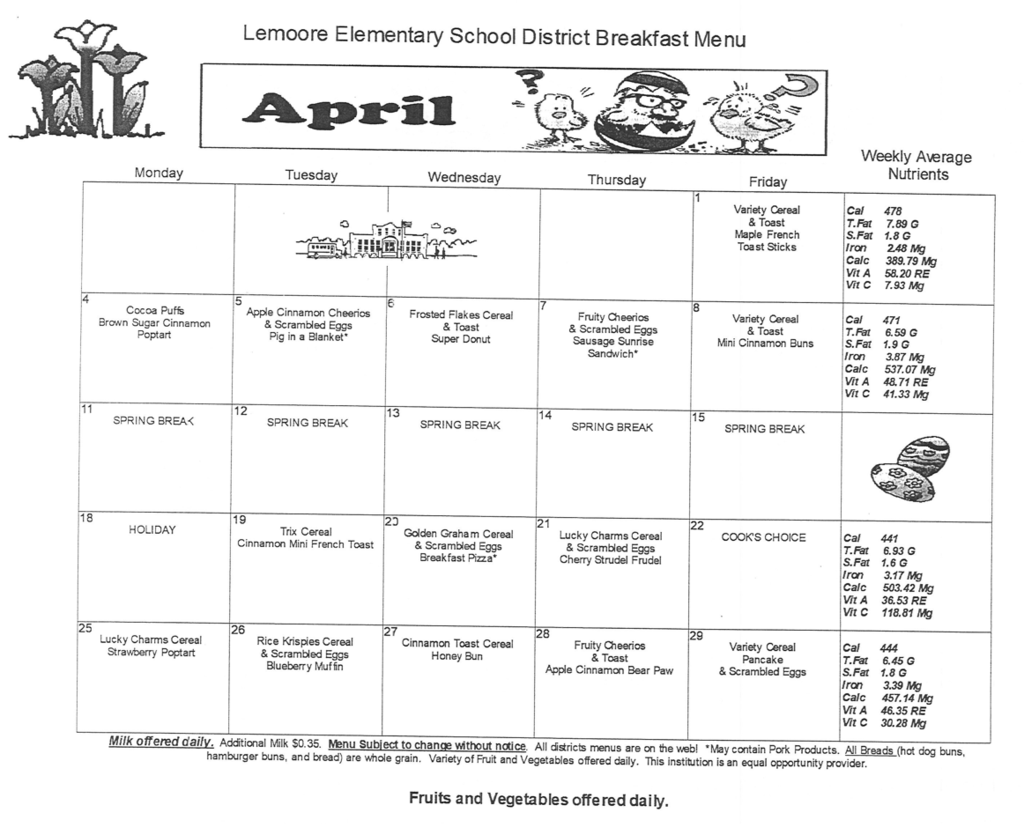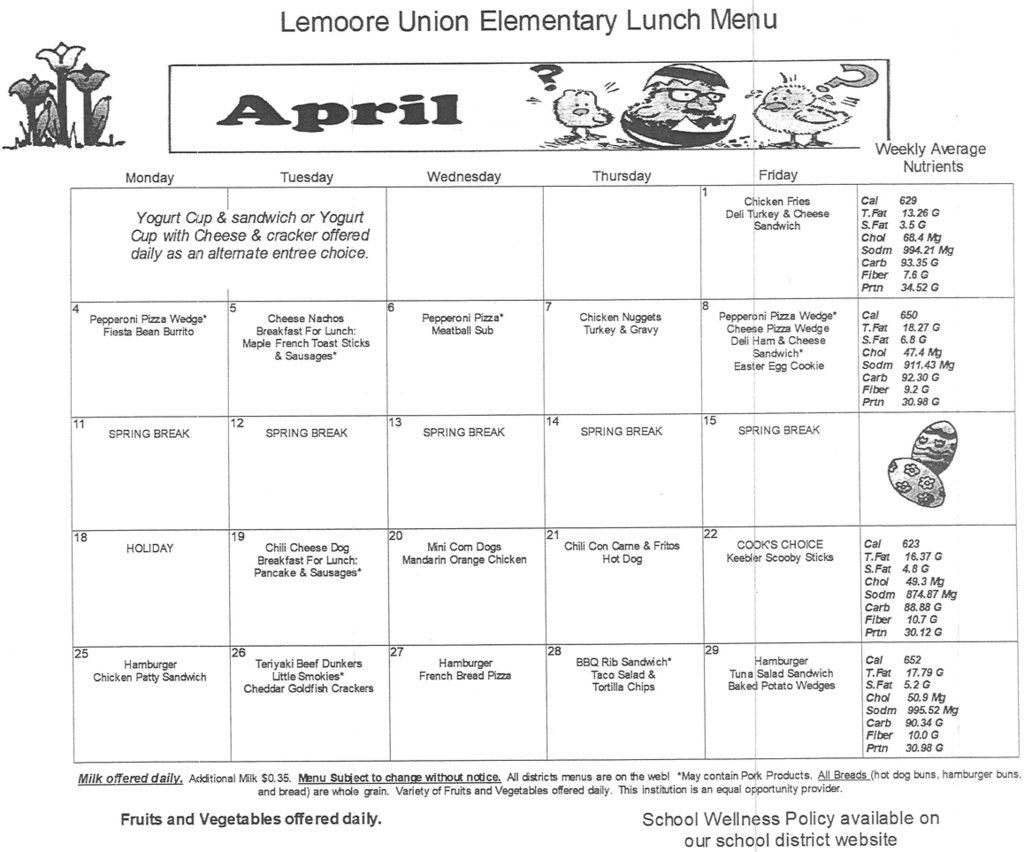 Open enrollment for 2022 to 2023.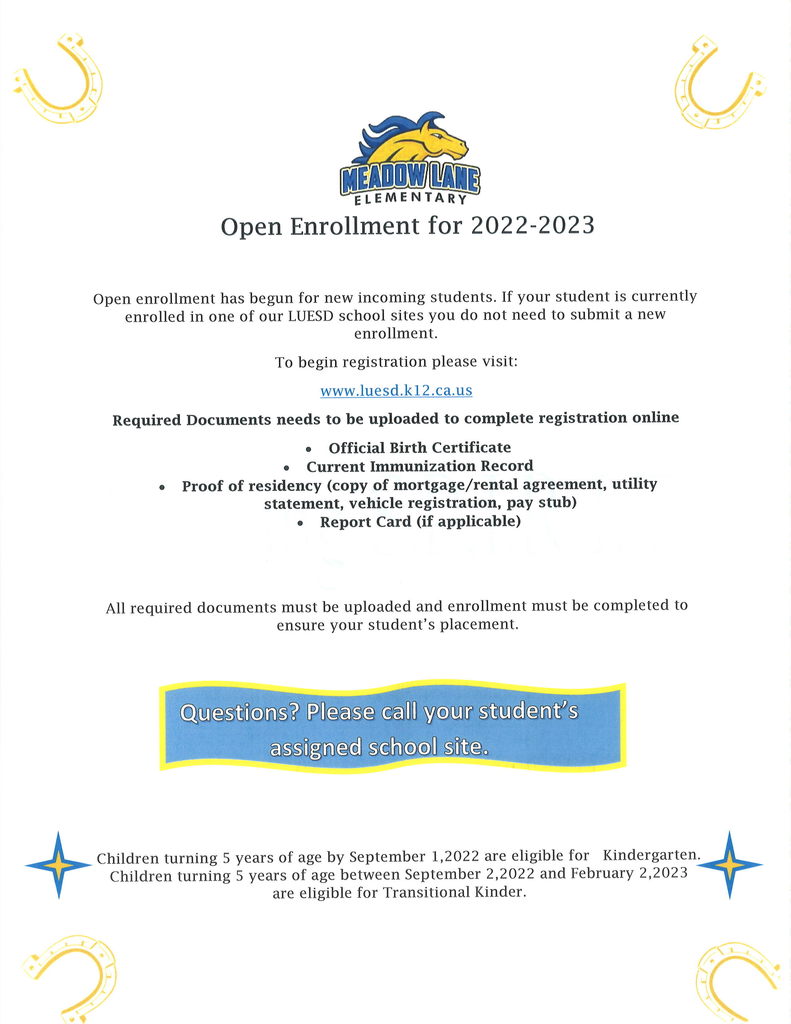 Reminder Picture Day is March 16th.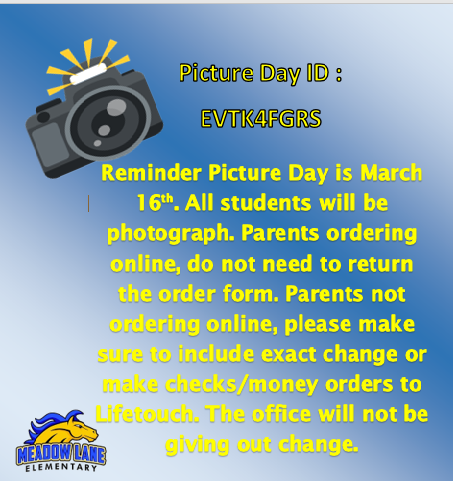 March 10th and March 11th are Regular Day Dismissals.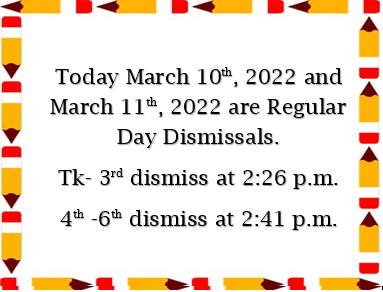 Summer School Info.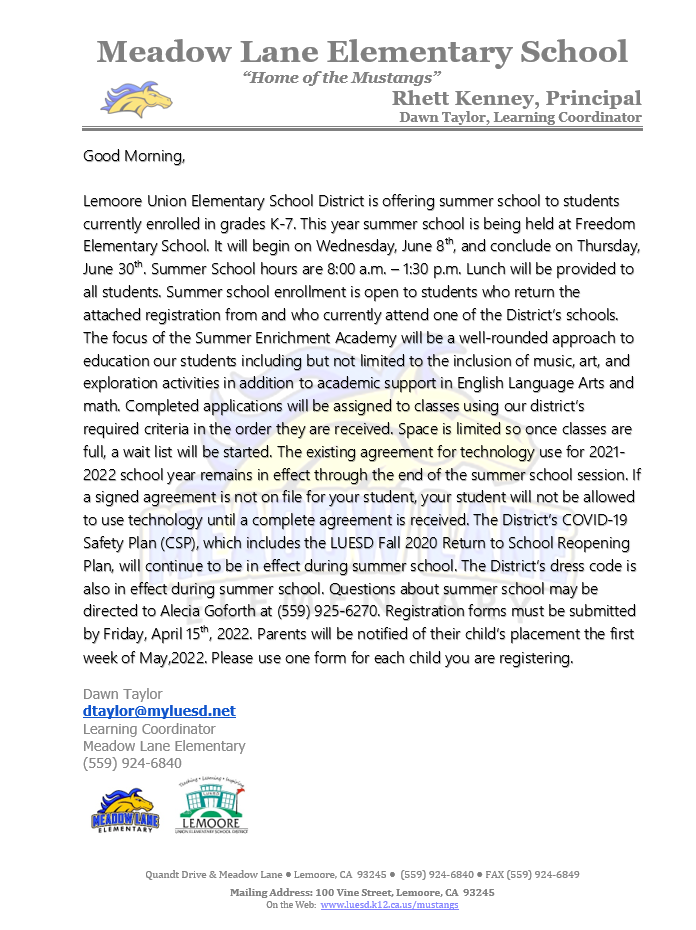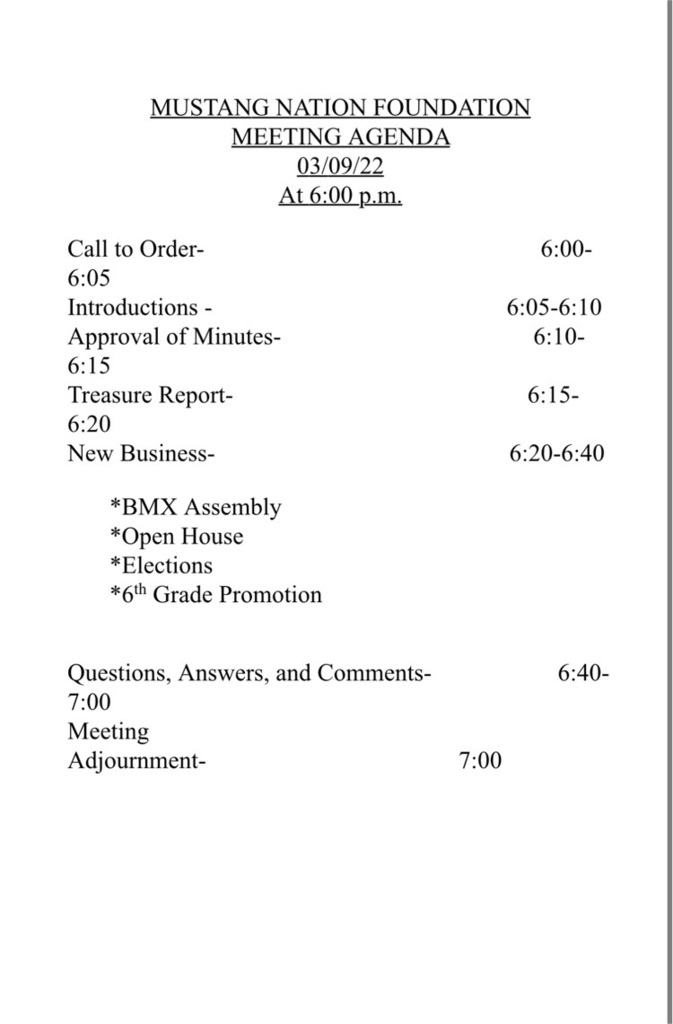 Hello ML parents here is a friendly reminder of this weeks schedule.
Mustang March News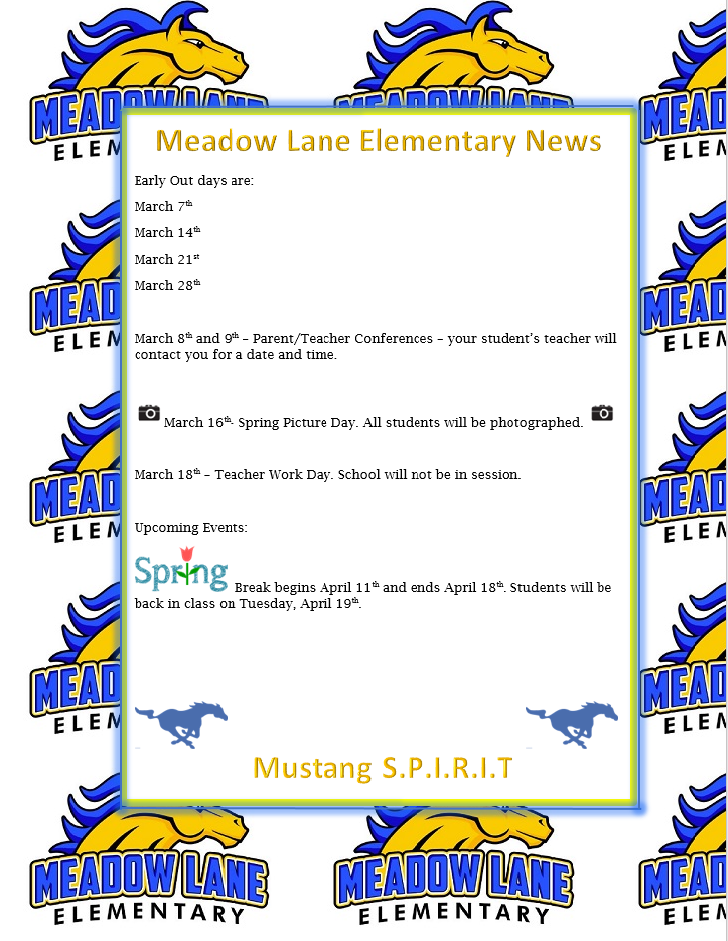 Spring Picture day is approaching us. Picture day will be on March 16th.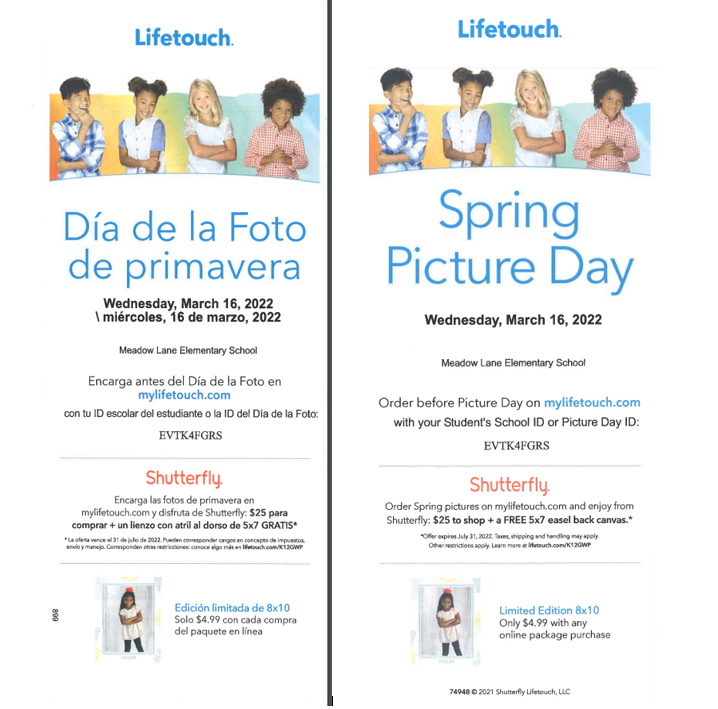 Mustangs here is our Breakfast and Lunch menu.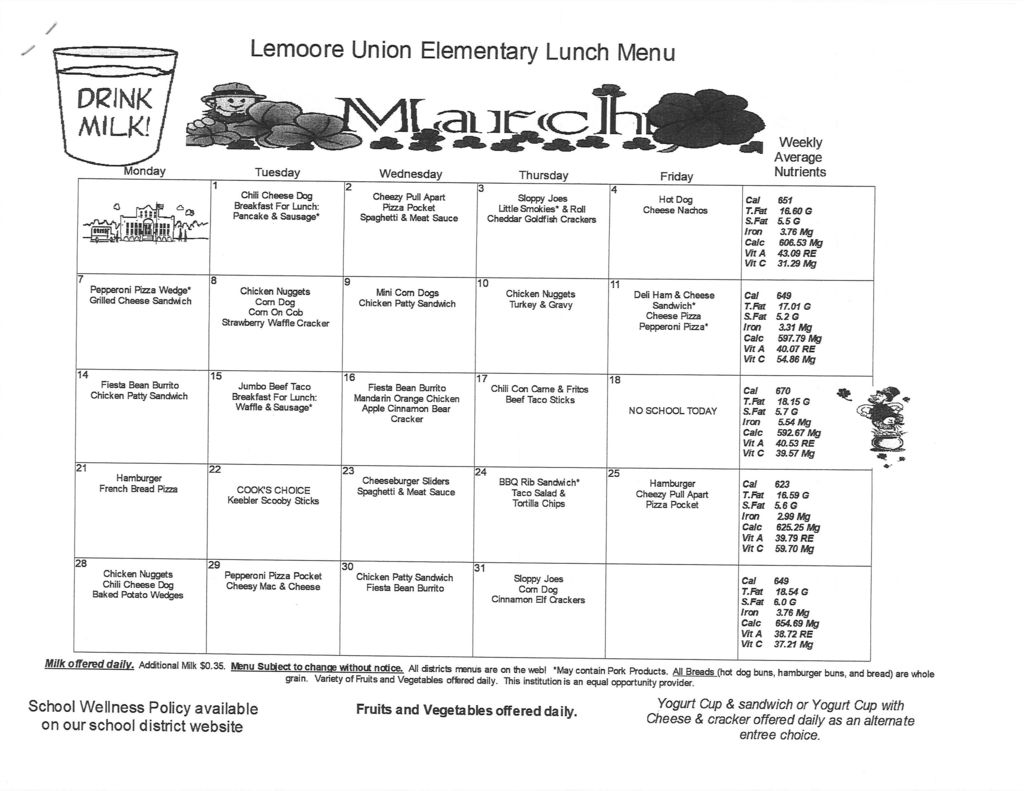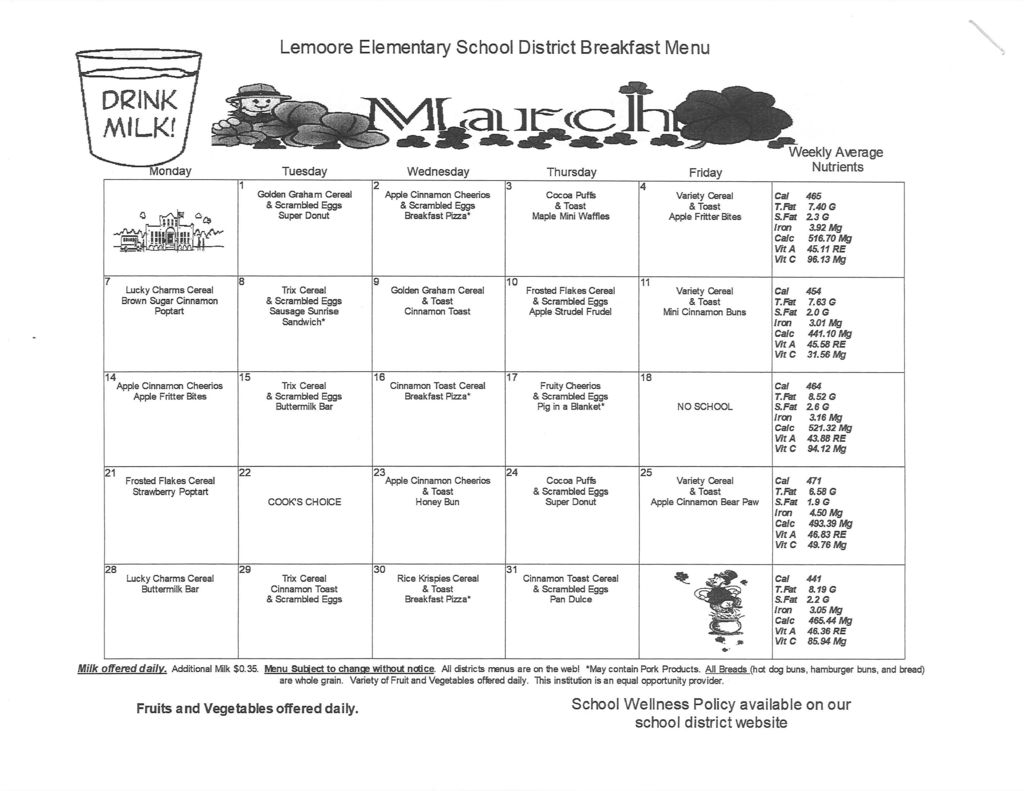 No School Monday 2/21/22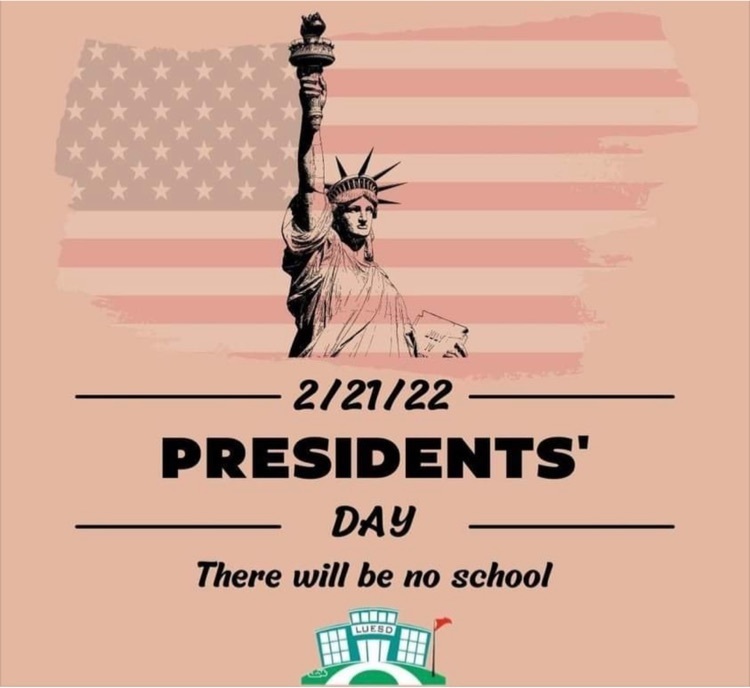 Basketball Schedule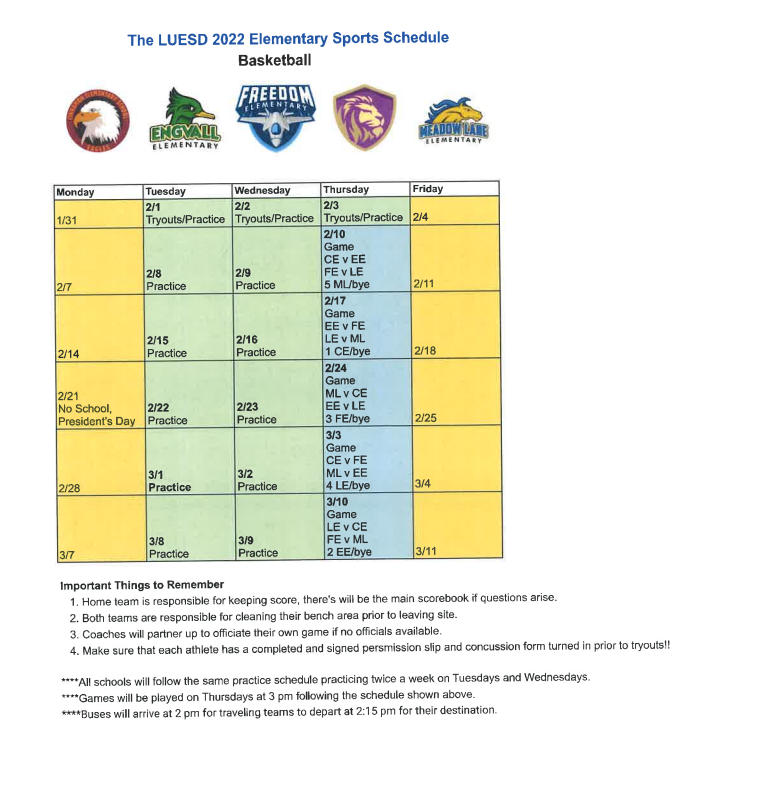 Feb. Breakfast and Lunch Menu