March 13, 2020
Kings County Community:
The 2019 novel coronavirus (COVID-19) has caused great anxiety in our schools and communities. While local health officials have yet to confirm a case of community transmission, we do not yet know how this will ultimately impact our county. Simply put, we are dealing with the unknown, and the time has come for us to take decisive action on behalf of our students, staff and community.
In the face of the declaration of a state emergency by our governor, guidelines to restrict public gatherings, and now, our president declaring a national emergency, the superintendents of Kings County have met to consider the health risks posed to our students, staff and community. As a precautionary step to slow and prevent the spread of COVID-19, and after careful deliberations with local school district leaders and in consultation with the Kings County Department of Public Health, we hereby support the decision of schools and districts in our county to close schools through Spring Break. We are optimistic that we will resume classroom instruction after Spring Break with schools anticipated to reopen on April 14, 2020. We will continue to evaluate what is best for our community.
This is not a decision we take lightly. We know that temporarily closing a school has a tremendous impact on our families, and steps will need to be implemented to support the continuity of learning and to ensure students have access to healthy meals. But the safety of our students and staff remains our top priority, and we have confidence that this is the proper precautionary course for our county. Students have the right to attend safe schools.
At this time, county health officials believe the risk of transmission is low, and while there has been no evidence of confirmed cases affecting a student or staff member at any district site, we understand that the situation is constantly evolving. On the advice of our public health officials, we need to focus on containment. We continue to monitor information from federal, state, and local partners including the Centers for Disease Control and Prevention (CDC), the California Department of Public Health (CDPH) and health care providers on preparedness efforts and to guide appropriate care for those who may be at risk for illness associated with the virus.
Parents should contact their local school district office or school site for specific information related to their schools. Please support and follow direction from administrators regarding measures they are taking to keep all students and staff healthy and safe.
Thank you for your efforts to keep our children and our communities safe.
Sincerely,
The Superintendents of Kings County: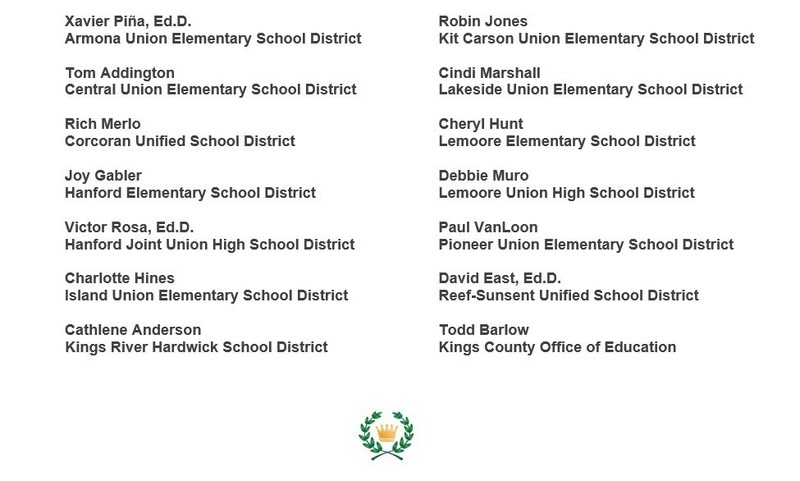 ---
13 de marzo de 2020
Comunidad del Condado de Kings:
El coronavirus de la novela 2019 (COVID-19) ha causado gran ansiedad en nuestras escuelas y comunidades. Aunque los funcionarios de salud locales aún no han confirmado un caso de transmisión en la comunidad, aún no sabemos cómo impactará esto finalmente en nuestro condado. En pocas palabras, estamos tratando con lo desconocido, y ha llegado el momento de tomar medidas decisivas en nombre de nuestros estudiantes, el personal y la comunidad.
Ante la declaración de una emergencia estatal por nuestro gobernador, las directrices para restringir las reuniones públicas, y ahora, nuestro presidente declarando una emergencia nacional, los superintendentes del Condado de Kings se han reunido para considerar los riesgos de salud que se plantean a nuestros estudiantes, el personal y la comunidad. Como medida de precaución para frenar y prevenir la propagación de COVID-19, y después de cuidadosas deliberaciones con los líderes de los distritos escolares locales y en consulta con el Departamento de Salud Pública del Condado de Kings, por la presente apoyamos la decisión de las escuelas y distritos de nuestro condado de cerrar las escuelas durante las vacaciones de primavera. Somos optimistas que reanudaremos la instrucción en el salón de clases después de las vacaciones de primavera con las escuelas que se anticipa que reabrirán el 14 de abril de 2020. Continuaremos evaluando lo que es mejor para nuestra comunidad.
No es una decisión que tomemos a la ligera. Sabemos que el cierre temporal de una escuela tiene un tremendo impacto en nuestras familias, y se deberán implementar medidas para apoyar la continuidad del aprendizaje y asegurar que los estudiantes tengan acceso a comidas saludables. Pero la seguridad de nuestros estudiantes y personal sigue siendo nuestra prioridad, y tenemos confianza en que este es el curso de precaución apropiado para nuestro condado. Los estudiantes tienen derecho a asistir a escuelas seguras.
En este momento, los oficiales de salud del condado creen que el riesgo de transmisión es bajo, y aunque no ha habido evidencia de casos confirmados que afecten a un estudiante o miembro del personal en ningún sitio del distrito, entendemos que la situación está evolucionando constantemente. Por consejo de nuestros oficiales de salud pública, necesitamos enfocarnos en la contención. Continuamos monitoreando la información de los socios federales, estatales y locales, incluyendo los Centros para el Control y la Prevención de Enfermedades (CDC), el Departamento de Salud Pública de California (CDPH) y los proveedores de atención médica en los esfuerzos de preparación y para guiar el cuidado apropiado para aquellos que pueden estar en riesgo de contraer una enfermedad asociada con el virus.
Los padres deben ponerse en contacto con la oficina del distrito escolar local o con el sitio de la escuela para obtener información específica relacionada con sus escuelas. Por favor, apoye y siga las instrucciones de los administradores con respecto a las medidas que están tomando para mantener a todos los estudiantes y al personal sano y seguro.
Gracias por sus esfuerzos para mantener a nuestros niños y nuestras comunidades seguras.
Sinceramente,
Los Superintendentes del Condado de Kings: