March 27, 2020 ~ 9:00 AM

Kings County Community:
Earlier this month, Kings County school district superintendents, with the support of their boards of trustees and in consultation with the local public health department, made the decision to temporarily close our schools due to the COVID-19 outbreak. Since then, we have remained in constant contact with one another, monitoring local, state and national announcements that affect our schools. During the closures, we have focused on providing students with meals, educational enrichment opportunities, and planning for distance learning. We initially planned to resume classroom instruction in April, promising to continually evaluate the situation.
As leaders, we are charged with doing everything we can to respond to the declared state and national emergency. We heed the governor's recent "shelter in place" order and the sustained guidance to practice social distancing.
Dr. Milton Teske, Health Officer for the Kings County Department of Public Health, advises that our community needs to continue to focus on containment , and an important part of that effort is keeping school facilities closed.
Looking ahead, we can identify criteria that would need to be met before school resumes normally. These include the lifting of the statewide "shelter in place" order and the removal of the guidelines for social distancing and restrictions on social gathering.
Given these current circumstances, we have come to a collective decision that the safety of our families and our community outweigh all other considerations. We recognize the need to extend the closure of our physical sites until May 1, 2020. Our focus will be on providing meals to our students and education through distance learning. We will continue to evaluate the ever-changing circumstances, remaining hopeful classroom based instruction will resume on May 4, 2020.
Parents should contact their local district offices or school sites for specific information related to their schools. Please follow the direction and guidance from your school administrators regarding measures they are taking for the benefit of all.
Thank you for your support and understanding in our efforts to keep our communities safe.
Sincerely,
The Superintendents of Kings County: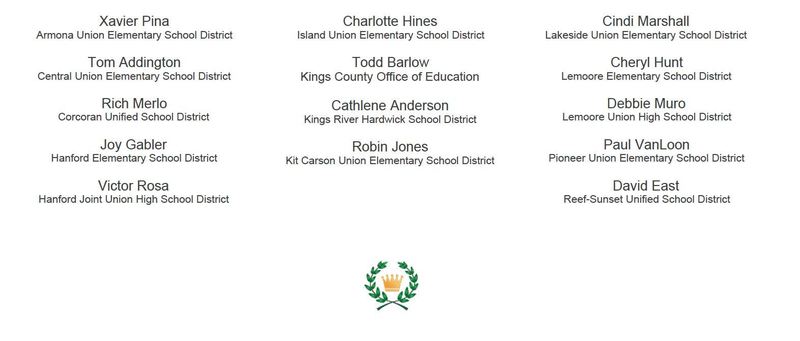 ---
27 de marzo de 2020 ~ 9:00 AM
Comunidad del Condado de Kings:
A principios de este mes, los superintendentes de los distritos escolares del Condado de Kings, con el apoyo de sus respectivas mesas directivas y en consulta con el departamento de salud pública local, se tomó la decisión de cerrar temporalmente nuestras escuelas debido al brote del COVID-19. Desde entonces, hemos permanecido en contacto constante entre las diferentes agencias, vigilando los y anuncios nacionales que afectan a nuestras
escuelas. Durante los cierres, nos hemos centrado en proporcionar a los estudiantes con comidas, oportunidades de enriquecimiento educativo y planificación de la educación a distancia. Inicialmente planeamos regresar a instrucción tradicional en el salón de clase en abril, prometiendo evaluar continuamente la situación.
Como líderes, estamos encargados de hacer todo lo que podamos para responder a la declarada Emergencia estatal y nacional. Tenemos en cuenta la reciente orden del gobernador de "refugiarse y mantenerse en lugar" y la orientación sostenida para practicar la socialización a distancia.
El Dr. Milton Teske, Oficial de Salud del Departamento de Salud Pública del Condado de Kings, aconseja que nuestra comunidad necesita seguir centrándose en la contención , y una parte importante de ese esfuerzo es mantener las instalaciones de la escuela cerradas. Mirando hacia el futuro, podemos identificar los criterios que necesitarían ser cumplidos antes de que la escuela se regrese a sesiones en salón de clase. Estos incluyen el
levantamiento de la orden estatal de "refugiarse y mantenerse en lugar" y la eliminación de las directivas de distanciamiento social y restricciones a las reuniones sociales.
Dadas las circunstancias actuales, hemos llegado a la decisión colectiva de que la seguridad de nuestras familias y nuestras comunidades pesan más que todas las demás consideraciones. Reconocemos la necesidad de extender el cierre de nuestras instalaciones físicas hasta el 1 de mayo de 2020. Nos enfocaremos en proporcionar comidas a nuestros estudiantes y en la educación a través de la enseñanza a distancia. Continuaremos evaluando las circunstancias siempre cambiantes, esperando que la instrucción en el salón de clase se vuelva a reiniciar el 4 de mayo de 2020.
Los padres deben contactar con las oficinas del distrito local o con las escuelas para obtener información específica relacionada con sus respectivas escuelas. Por favor, sigan la dirección y la guía de los administradores de sus escuelas con respecto a las medidas que están tomando para el beneficio de todos.
Gracias por su apoyo y comprensión en nuestros esfuerzos por mantener nuestras comunidades seguras.
Sinceramente,
Los Superintendentes en el Condado de Kings