Lemoore Union Elementary School District Recognized as a 2022 California Pivotal Practice (CAPP) Award Program Recipient The California Department of Education and the California Pivotal Award Program selected LUESD as a 2022 CAPP Award Program Winner LUESD was recently recognized as a 2022 California Pivotal Practice (CAPP) Award Program Winner. The CAPP Award Program, which is part of the California Department of Education's School Recognition Program, was designed in partnership with Presenting Sponsor, California Casualty to celebrate districts and schools that have implemented innovative practices during the 2020-2021 school year to support distance learning during the COVID-19 pandemic. The CAPP Award Program is currently being utilized in place of the California Distinguished Schools (DS) Program. Congratulations to the LUESD students and staff on this well-deserved recognition!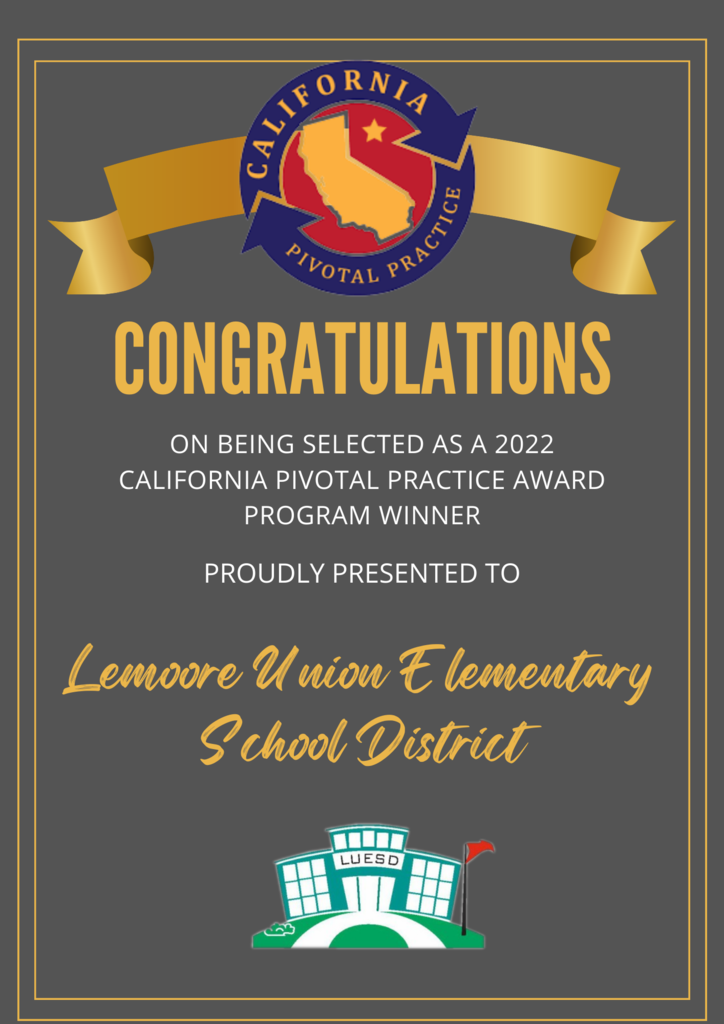 There will be no school on Monday, May 30th.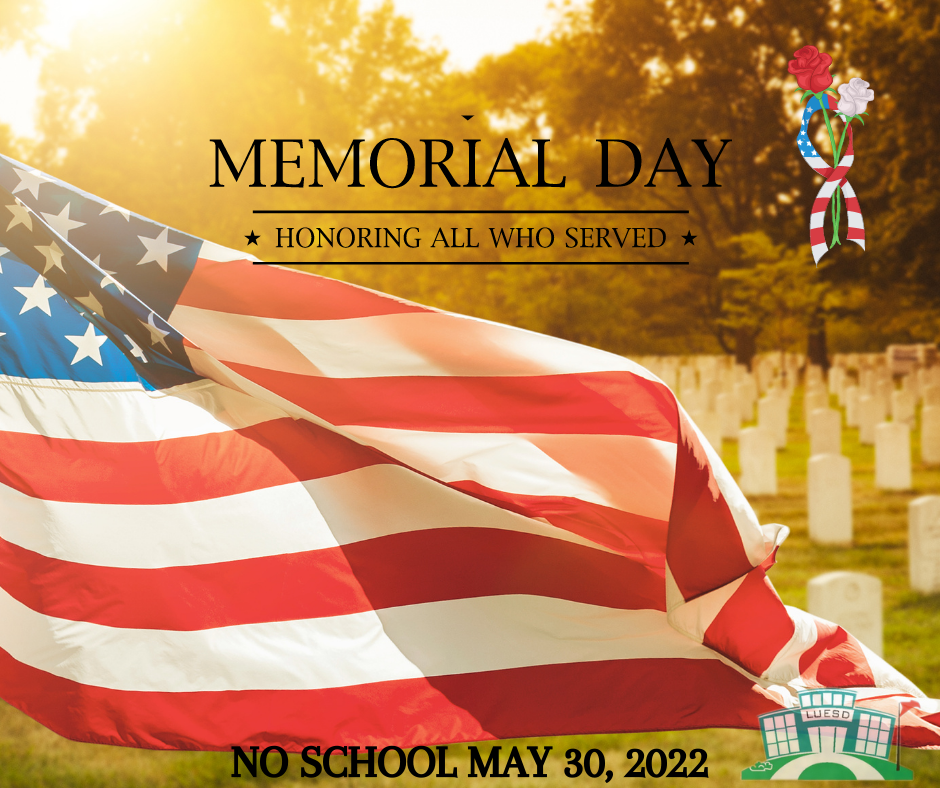 The Expanded Learning Opportunities Program (ELOP) is a new state program that is designed to provide students in TK-6th grades with additional time and support in addition to the regular school day. The district may be able to expand the program to serve students in grades 7 and 8 if funds are available. The intent of the program is to meet the needs of the community in terms of days and times of operation as well as the content of the program. This survey will be critical in assisting us in the process of developing Lemoore Union Elementary School District's ELOP. - El Programa de Oportunidades de Aprendizaje Ampliadas (ELOP, por sus siglas en inglés) es un nuevo programa estatal que está diseñado para proporcionar a los estudiantes de TK a 6° grado tiempo adicional y apoyo además del día escolar regular. El distrito puede expandir el programa para servir a los estudiantes en los grados 7 y 8 si hay fondos disponibles. La intención del programa es satisfacer las necesidades de la comunidad en términos de días y horarios de operación, así como el contenido del programa. Esta encuesta será fundamental para ayudarnos en el proceso de desarrollar el ELOP del Distrito Escolar Primario de Lemoore.
https://docs.google.com/forms/d/e/1FAIpQLSdE-IY9IZeX7xwl52i2DvUG0C05K4j6XjQC6fiZ38-lWIoErA/viewform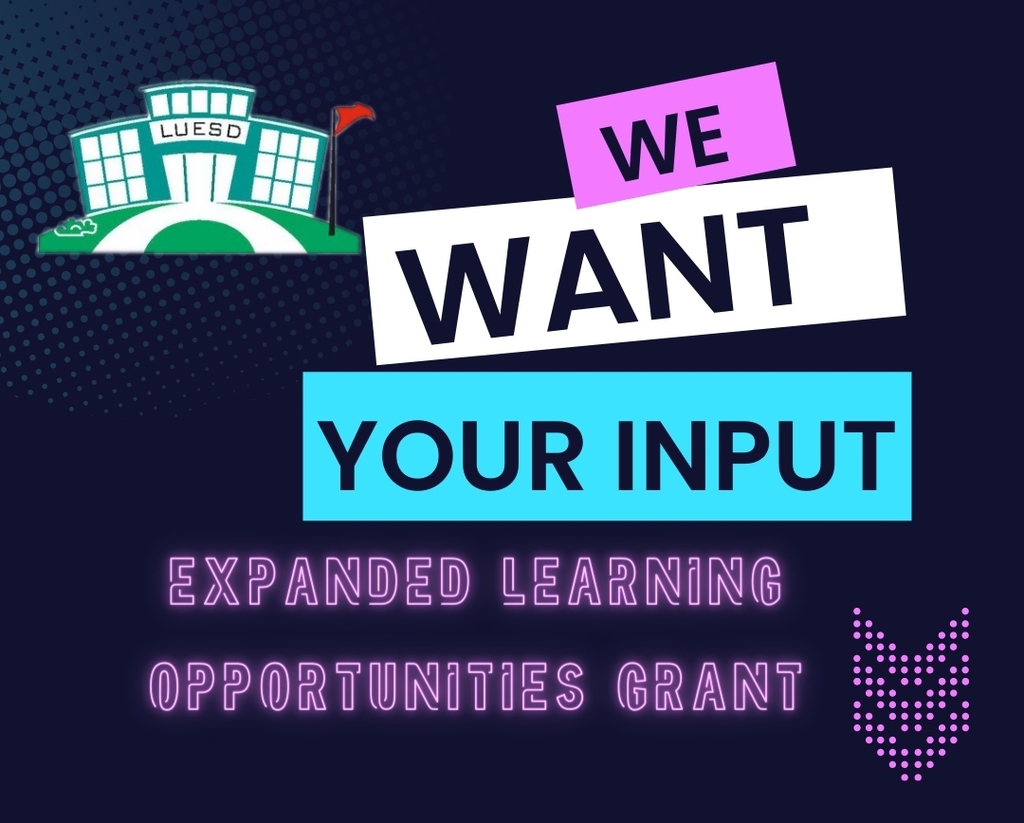 It's CLASSIFIED SCHOOL EMPLOYEES APPRECIATION WEEK! Please join us in thanking our classified staff for the amazing work they do each day on behalf of our students. We appreciate you! #ClassifiedAppreciation #thankyou

LUESD Board of Trustees and Superintendent Hunt thanked EACH ONE of our retirees for making a difference in the lives of our students and for their positive contributions. * James Delgado - seventeen years - Cinnamon Elementary School * Maria Teixeira - sixteen years - Cinnamon Elementary School * Kirk Jolley- twenty-one years- Cinnamon Elementary School * Liz Cortez- thirty-three years - Cinnamon Elementary School * Brenda Bridges- eighteen years- Lemoore Elementary School * Karen Ray - sixteen years - University Charter School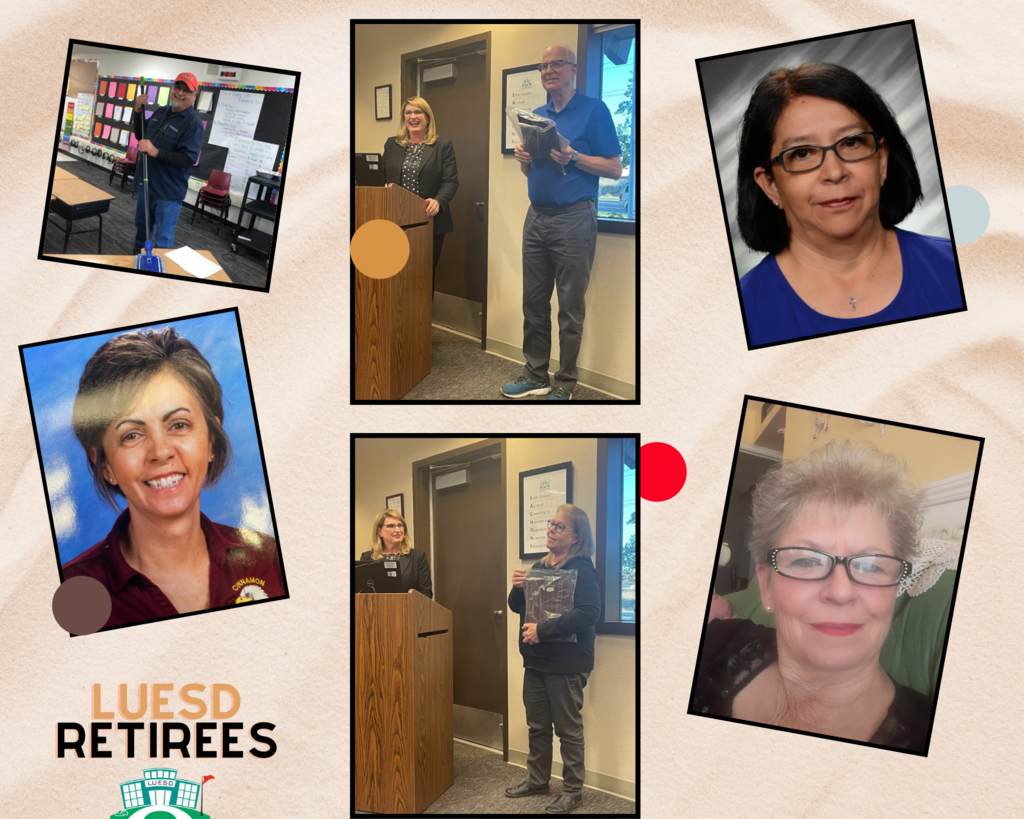 Today we pause to salute our amazing LUESD nurses and thank them for taking such good care of our students. Happy #SchoolNurseAppreciationDay!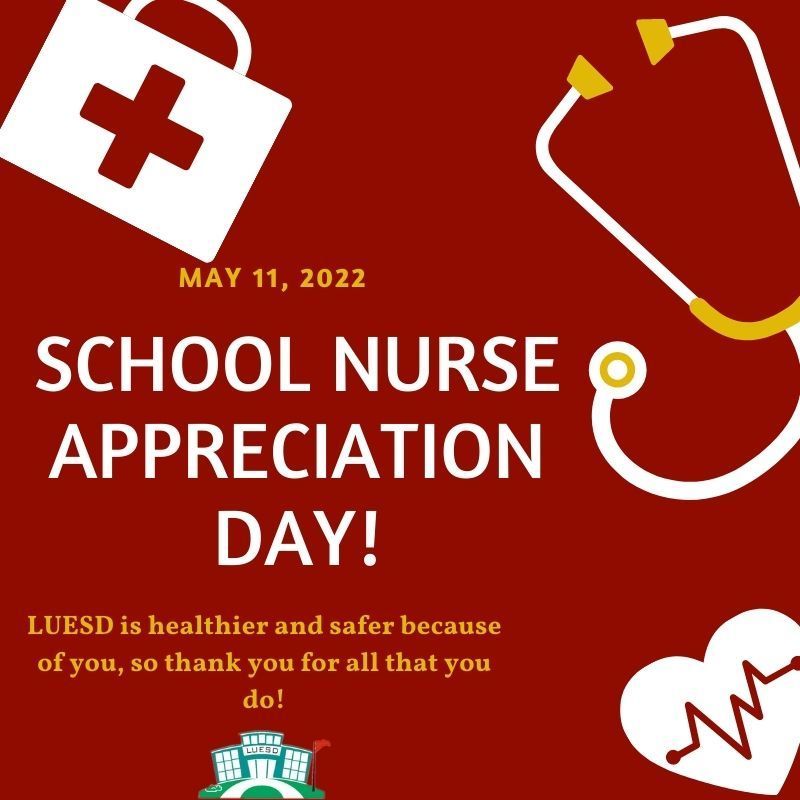 Did you know that not all heroes wear capes? Some wear aprons! Often, they wake up early & work long hours to make sure our #LUESD students are fed! Join us in celebrating our Child Nutrition Services staff for #SchoolLunchHero day!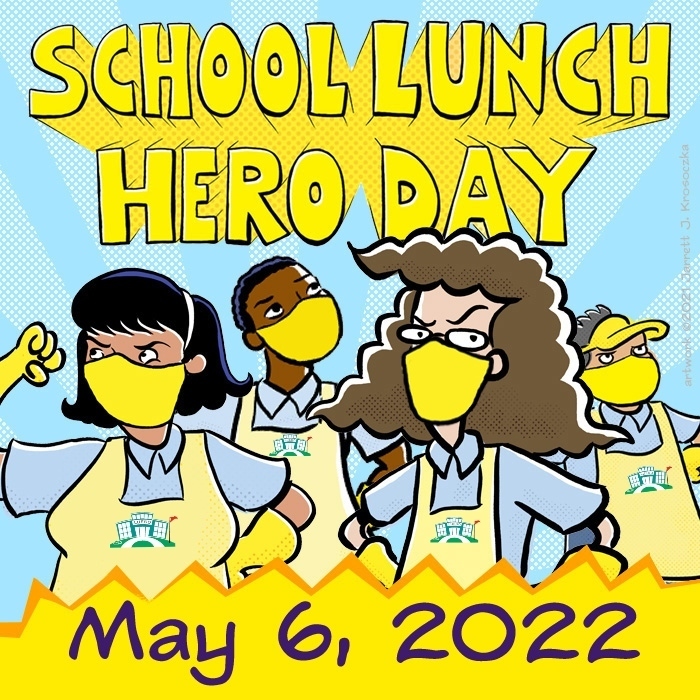 Happy #TeacherAppreciationDay to our dedicated and talented educators! 💙 🤍 #LUESDTeachers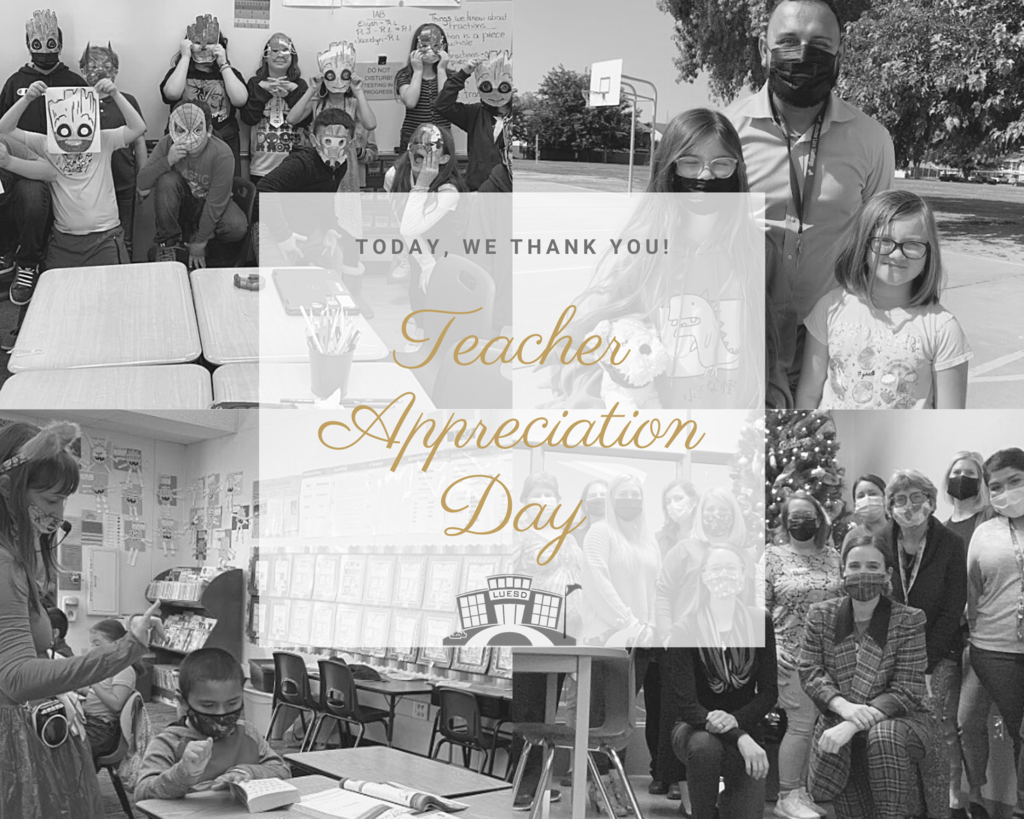 Monday, May 2nd all LUESD offices will be closed 1:30-3:30PM for a district-wide staff meeting. We apologize for any inconvenience.

Please see information on vaccine clinics during Spring Break in Kings County. For more information please visit
www.KCDPH.com

A friendly reminder that spring break is next week. We wish the Lemoore Union Elementary School District community a wonderful week off. Classes will resume on Tuesday, April 19th. #SPRINGBREAK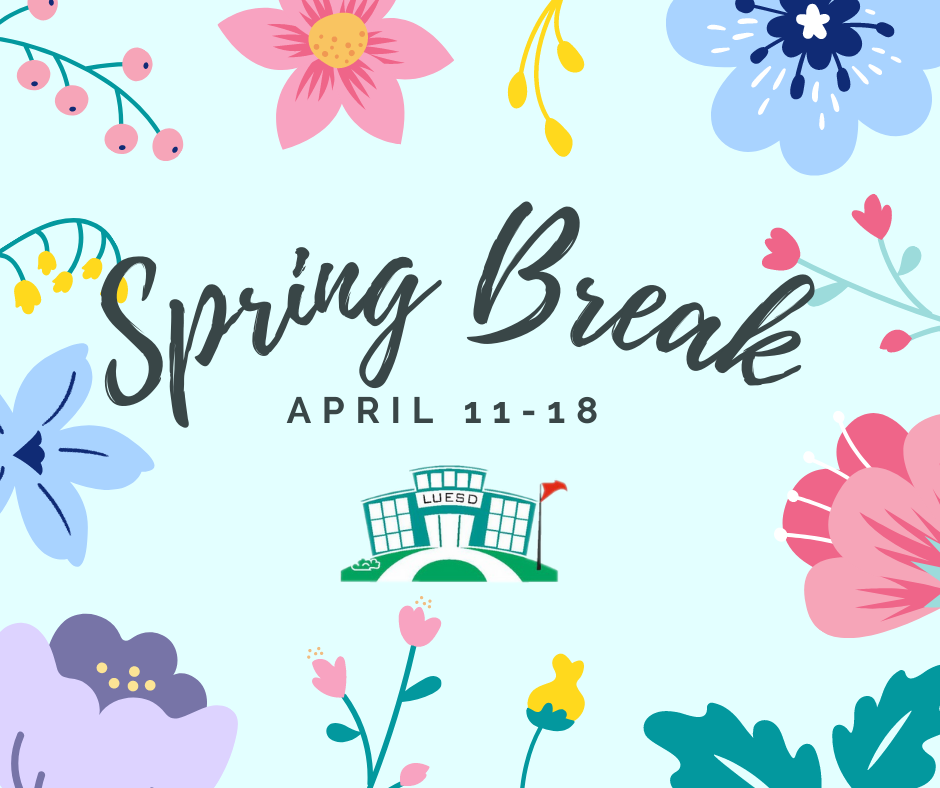 This week is #NationalLibraryWeek. 📙 Join us as we celebrate and highlight the school library programs that are making a difference in student lives each and every day!✨ Celebrate with us all week using hashtag #LUESDReads!📚📖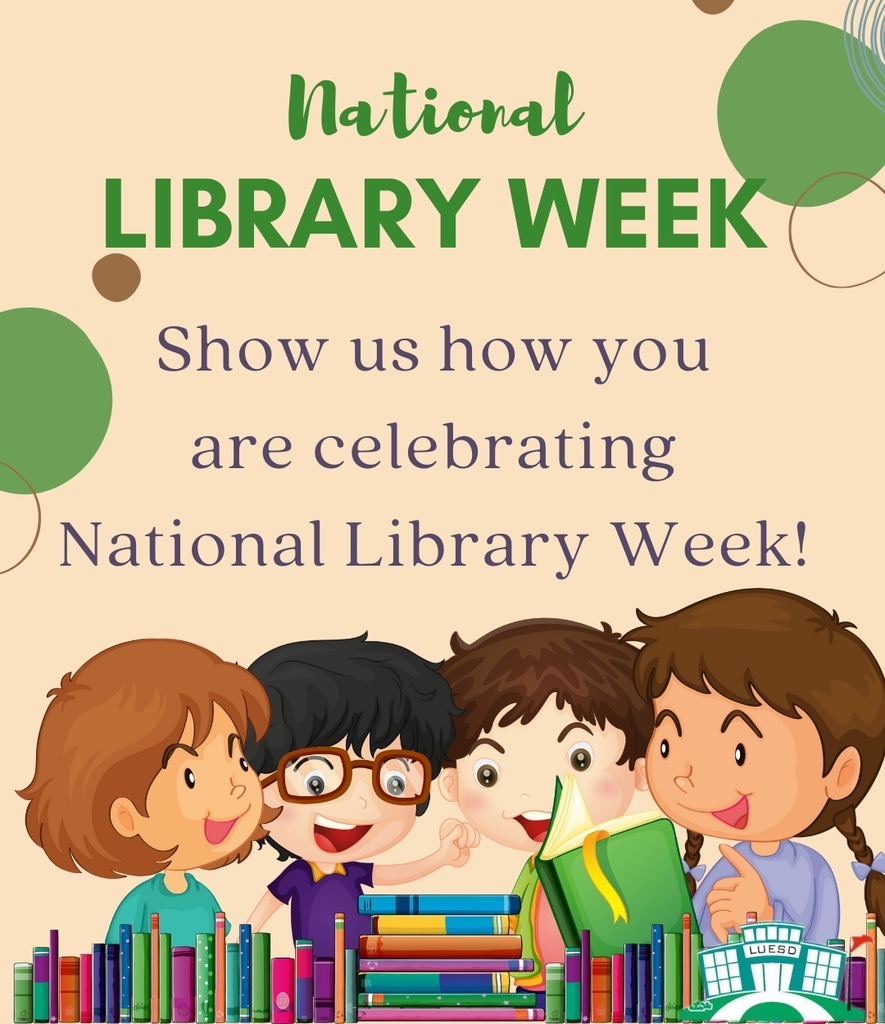 April is #AutismAwarenessMonth and today is #WorldAutismAwarenessDay!. This month is focused on increasing understanding & acceptance of those with autism! Join us in celebrating! Around the world, communities come together to #LightItUpBlue today in recognition of people with autism and those who love and support them. Learn all the ways you can #LightItUpBlue at:
www.autismspeaks.org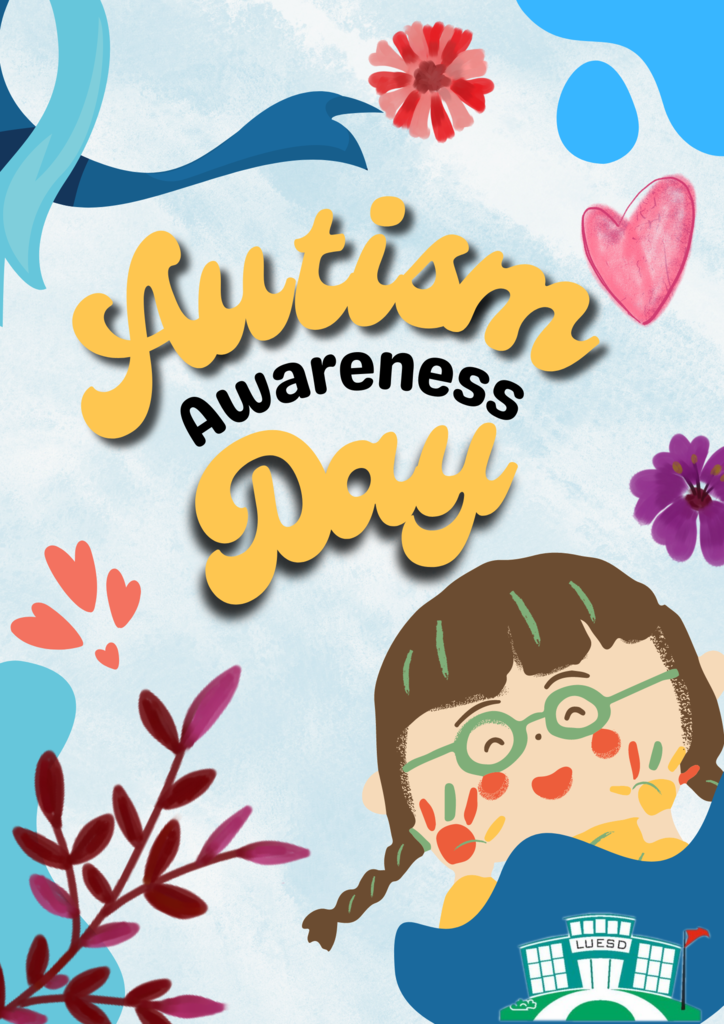 Lemoore Union Elementary School District is currently taking new student applications for the 2022/2023 school year! This includes registration for children who will be starting transitional kindergarten or kindergarten for the first time and are not currently enrolled in our district. To access the Enrollment webpage, please start by visiting our website at
https://www.luesd.k12.ca.us
and select "Student Enrollment" on the homepage. Student registration information may be submitted through the Aeries Online Enrollment website on your computer, tablet or your mobile device. Parents are highly encouraged to register their child(ren) for kindergarten and/or transitional kindergarten by May 1st to ensure important information and opportunities are not missed. Each elementary school site will host a kindergarten parent orientation for registered students and parents/guardians. Linkages to Learning will be supporting our families at each kindergarten orientation by providing every registered kindergarten student a FREE backpack full of supplies to help prepare for their new adventure! As a reminder, TK students who are already attending schools within LUESD will NOT need to complete this online registration for the 2022/2023 school year.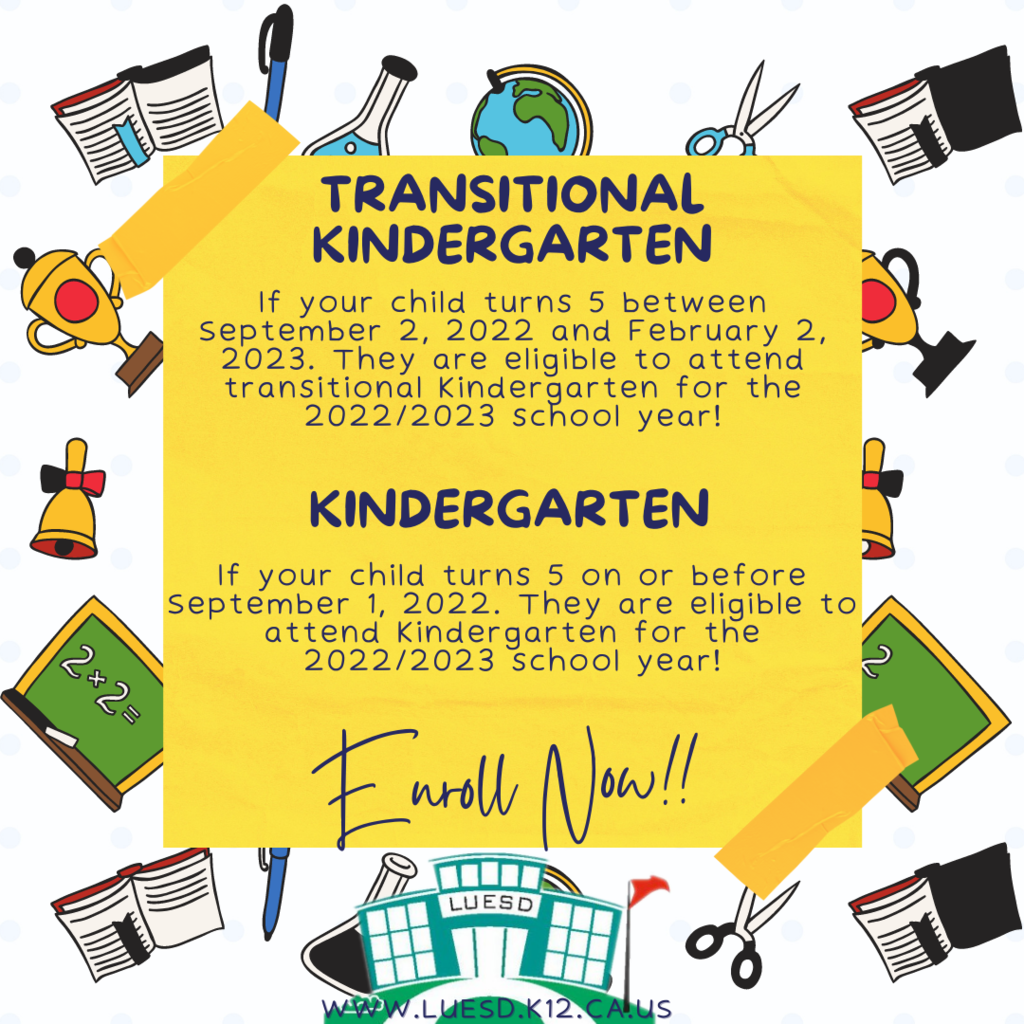 Road construction on Hanford Armona Road between Apricot Avenue and Liberty Drive will begin on Monday, March 28, 2022 and will last approximately 5 weeks. Please plan accordingly.

Congratulations Liberty Middle School for your 2021 Schools to Watch Redesignation status. The district was commended for outstanding support of middle grade students and educators state wide through district leadership in the California Schools to Watch model middle school program. LUESD also received recognition as a district for our commitment to exceptional stakeholder engagement and efforts our district has invested to support and connect with our community educational partners. These efforts include using actionable means to engage, and collaborate through meetings, surveys and connection activities in order to ensure the success of our students. Congratulations LUESD - 2021-2022 Stakeholder Engagement Award recipient.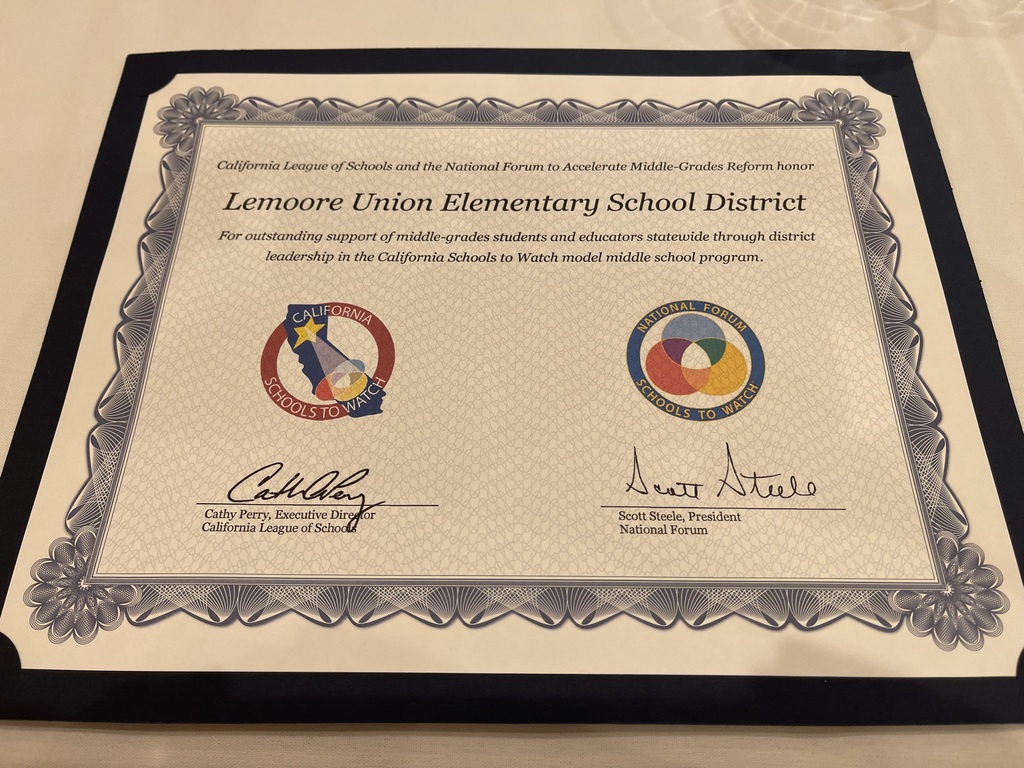 There will be no school on Friday, March 18 - Staff Development Day 👨‍🏫👩‍🏫 #Proud2bLUESD #ProfessionalDevelopment #eachone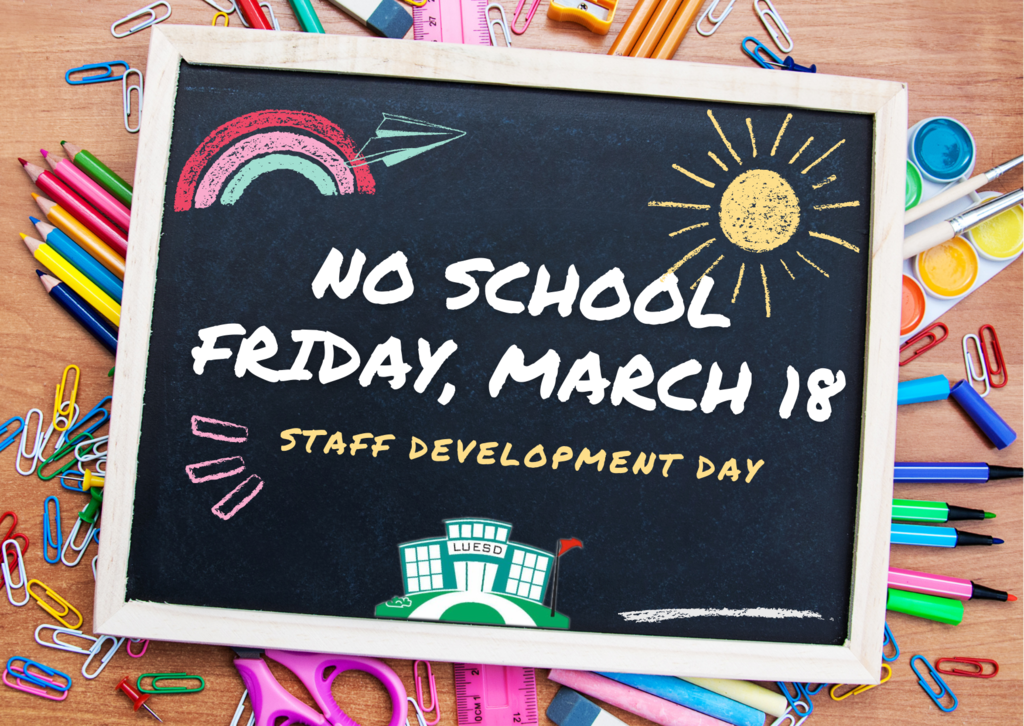 LUESD Administration attended the 7th Annual ACSA Mid-State Conference last week. The theme of the conference was Embracing Change. @acsaregion11 #alwayslearning #eachone #leaders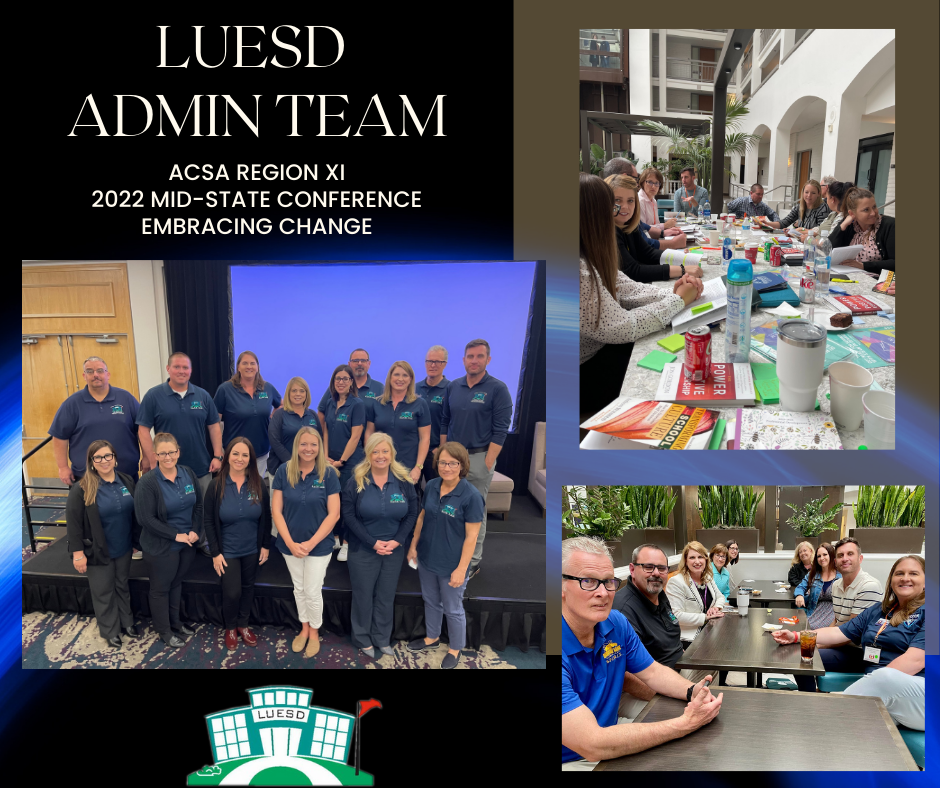 Congratulations to Dominique Avina, Teacher of the Year and Norris Yun, Employee of the Year for Lemoore Union Elementary School District. We congratulate both Mrs. Dominique Avina and Mr. Norris Yun for embodying our vision of EACH ONE and truly making a difference! We look forward to celebrating them as our LUESD Teacher and Employee of the Year and Kings County Excellence in Education Award Honorees. #LUESDEACHONE